Brave: The Disney-Pixar film scoops best animation at the Oscars
The film, set in Scotland, was honoured with the gong for Best Animated Feature Film.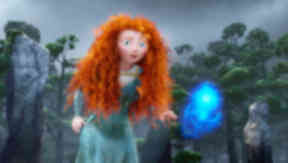 The Disney-Pixar film Brave has won its third award of the year at the Oscars.
The film, set in Scotland, was honoured with the gong for Best Animated Feature Film on Sunday.
It beat fellow nominees Frankenweenie, ParaNorman, Wreck-It Ralph and The Pirates! Band of Misfits (known in the UK as Pirates! In an Adventure with Scientists).
Earlier this year, the movie picked up the same award at both the Baftas and Golden Globes.
The film is set in a mythical medieval Scots kingdom and stars household names such as Billy Connolly, Emma Thompson and Julie Walters. It topped the US box office when it opened, taking an estimated £42.3m at the box office and was the 13th consecutive Pixar film to open at number one.
Other winners at the Academy Awards was Daniel Day-Lewis, who picked up his third Best Actor gong for Lincoln, and Adele who was honoured with Best Original Song for the Skyfall theme.
First Minister Alex Salmond said: "It is absolutely fantastic to see Merida and the gang continue to fly the flag for Scotland in Hollywood with Brave's latest success at the Academy Awards.
"To win the Oscar for best animated film is a massive achievement to add to the well-deserved recognition already gained in the same category at the Baftas and Golden Globes earlier this year.
"And I was delighted to attend the world premiere in June, an event which helped to create such a fantastic buzz around Brave and help it on its way to Oscar success.
"Mark Andrew's wonderful depiction of Scotland continues to bring excitement and delight to those who see it and I am certain that winning the top prize in the movie business will now mean it is seen and enjoyed by even more people right across the world."