Number of killings at lowest level for 30 years
Kenny MacAskill says alcohol and knife crime still blight parts of Scotland despite falling homicide rate.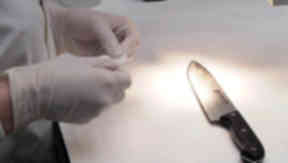 Scotland's homicide rate is at its lowest level since the 1970s, with knife killings down by more than a third in the last year.
Justice secretary Kenny MacAskill claimed the figures, which showed a 20% drop in killings overall, were a vindication of the Scottish Government's policy to put 1,000 new police officers on the beat.
But opposition parties said the high proportion of deaths caused by bladed weapons - which accounted for nearly half the total - showed the SNP was a "soft-touch government".
The number of homicides - a category which covers culpable homicide as well as murder - has been falling steeply for the last three years, reaching a 30-year low of 78 in 2009.
However, Scotland still has the fifth highest rate of homicides-per-head in Europe, roughly equivalent to Bulgaria and Romania and 12 places higher than England.
While knife killings fell from 57 to 35 during the past year, blades remain the weapon of choice for most killers, accounting for almost half of last year's total.
On average, homicide victims were most likely to have been killed in their home or at the home of someone they knew, by someone who was known to them, and the killer was very likely to have been under the influence of alcohol or drugs at the time.
'Booze and blades culture'
Mr MacAskill said: "While this significant drop means fewer families are having to come to terms with the consequences of such a terrible crime, we still have to work hard to reduce further the number of killings by tackling the booze and blades culture that still blights parts of Scotland.
"These figures also demonstrate the terrible cost of Scotland's damaging relationship with alcohol, with nearly half of all those accused of homicide found to be under the influence of drink or drugs at the time of the incident."
Labour's justice spokesman Richard Baker said the figures showed that the Nationalist had failed to get tough on knife crime.
"While the overall decrease in the number of homicides is to be welcomed, there can be no complacency when stabbings continue to account for three times as many homicides as the second most common method of killing.
"That is why within the first year of a Labour Scottish Government, tough new legislation would be introduced to make it clear that if you carry a knife, you will go to jail."
Conservative justice spokesman John Lamont said: "Over 40% of all homicides are carried out by a sharp instrument, a statistic which highlights the extent of the knife crime epidemic which continues to sweep Scotland.
"I hope this sends a clear message to the soft-touch SNP Government: emptying our prisons, abolishing short sentences and turning early release into even earlier release is not going to make things better."