'Overweight should be refused medical treatment if they don't slim'
Three-fifths of Scots say overweight people should not receive NHS treatment until they lose weight.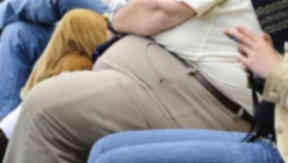 Three-fifths of people in Scotland believe those who are overweight should be denied NHS treatment if they ignore medical advice to slim, a survey suggests.
People who refuse immunisations known to prevent illnesses should also be denied treatment, according to three in five of those surveyed.
Professional services firm PricewaterhouseCoopers (PwC) surveyed over 2000 people across the UK, including around 200 in Scotland, to find out their priorities for the NHS, with "tough choices" looming in the years ahead.
It found that almost 60% of people in Scotland said those who have been advised to lose weight to help their condition should not receive any other treatment for that condition until they lose the weight.
Another 60% said that to receive NHS treatment, immunisation should be compulsory where it is known to prevent illness, except where there is an allergy to immunisation.
A quarter said they would only part-fund treatment for conditions made worse through lifestyle choices, such as diabetes or heart disease, rising to a third amongst those aged over 35, according to the survey.
One in three believe patient choice on treatment location and provider is important, while 44% believe they should be treated where and when it is more cost effective for the NHS.
A majority of people in Scotland (59%) support NHS treatment even if it makes a small difference to those affected, such as those who are terminally ill.
Mark White, director and public sector specialist at PwC in Scotland, said: "The public has high expectations of the availability of good quality care within the NHS, partly driven by its track record.
"But their loyalty and affection for this institution is also being challenged as the reality of living with the austerity cuts that impact us all continues to hit home.
"Over the next 24 months tough choices will clearly have to be made and these will determine the long-term future of the NHS.
"As we navigate the road ahead, it is vital that we remain realistic about the extent to which structural reform, prioritisation of care, patient and provider behaviour-change can offset the looming demographic and financial challenges the NHS faces.
"Trade-offs will need to be made. However, it is essential that these do not compromise the patient or the quality of care."