New transport minister was fined for not paying Skye bridge toll
Keith Brown has admitted to being convicted after he refused to pay the controversial charge in the mid-1990s.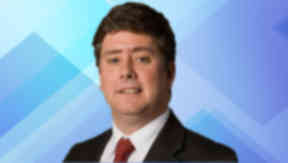 New transport minister Keith Brown has a conviction for refusing to pay the Skye bridge toll, it has emerged.
Mr Brown, the SNP member for Ochil, admitted in his maiden speech to the Scottish Parliament in 2007 that he had been fined £50 for not paying the toll in the mid-1990s - and disclosed that he had never paid the court fine either.
Campaigners are still fighting for 130 people who were fined for not paying the toll to have their convictions quashed.
Mr Brown's speech called for the new SNP Government to scrap tolls on the Forth and Tay bridges, following the abolition of the Skye bridge levy in 2004 by the previous Labour-LibDem coalition. The Forth and Tay bridges went toll-free in 2008.
He said: "I am no admirer of tolls. Indeed, I was convicted for refusing to pay the Skye bridge toll back in the mid-1990s.
"The Skye bridge toll campaign was another successful campaign to get rid of unjust tolls. It would be nice if the Lord Advocate were to consider quashing my conviction and those of others who opposed that disgraceful toll, but I suppose that she could just as easily come after me for the £50 fine that I have not paid in 12 years."
Fresh snow forecast
Mr Brown took over from Stewart Stevenson, who resigned at the weekend after accepting responsibility for poor communications that contributed to thousands of motorists getting stuck in the cold.
With temperatures expected to drop below freezing every night this week, the Met Office has issued warnings of fresh heavy snow on Thursday across almost the entire country.
Mr Brown said: "My focus as new transport minister is to ensure everything possible is being done to keep Scotland moving.
"We acknowledge there are lessons to be learned and that we need to communicate better our advice to the travelling public. I am working hard with my Government colleagues to ensure we do just that.
"I have met and heard from a range of agencies today all involved in the task at hand to ensure we are as prepared as we can be to respond to the forecasted change of weather.
"All of those involved know we must be ready and are straining every sinew to be prepared."
SEE ALSO