Emergency plan: government reveals six ways to beat return of the snow
Government reveals six-point plan to prevent repeat of scenes that cost transport minister his job.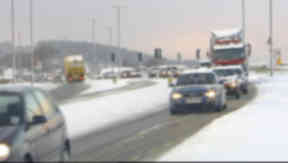 Under-fire ministers unveiled a new action plan to help prepare for the return of the big freeze which crippled Scotland last week.
The heavy snow and ice, which fell last Monday morning, left hundreds of vehicles stranded on the main motorways, including the M8, M73 and M80, and drivers trapped in their vehicles overnight.
It took two days for traffic chiefs to reopen a stretch of the M8 prompting anger from the public and forcing the resignation of Transport Minister Stewart Stevenson on Saturday.
Much of Scotland's schools were also closed for days while shops ran out of supplies as lorries failed to make deliveries. Fuel supplies were also affected with many garages running out.
On Tuesday, newly-appointed Transport Minister Keith Brown revealed Scottish Government plans to prepare for another heavy snowfall, forecast from Thursday.
The six-point plans aims to boost communication and keep the country moving and prevent another week of gridlocked roads.
These include keeping supplies of grit and salt at key locations along the main trunk roads, stocking blankets and other supplies with emergency vehicles and removing central reservation barriers to allow more movement of traffic.
Multi agency
The plan was announced as it was revealed that a special multi-agency group will be established in the event of severe weather which will include representatives for Scotland's eight police forces, the trunk road Operating Companies, Transport Scotland and ScotRail.
The group will operate from Traffic Scotland's Traffic Control Centre in Glasgow.
Mr Brown said: "In light of last Monday's extraordinary and exceptional weather event, a key lesson was the need to boost communications - both among all the vital agencies involved, and crucially with members of the public.
"Therefore, within the Resilience Committee we have established how the different agencies involved can work together better so that we minimise disruption to keep our transport networks moving.
"We have taken immediate action in consultation with operational partners to improve communications - both between the different organisations involved and crucially with the public."
He added: "And the setting up of this multi-agency approach, including the police and bodies involved with both road and rail, helps us to speed up the flow of coordinated information to the travelling public.
"Forecasts for later this week predict more wintry weather, and we want to take every possible step to ensure that we keep Scotland on the move."
STV weatherman Sean Batty said: "Much of Scotland can expect at least some snow fall by the end of the weekend.
"The heaviest of falls will be around northern and westerly areas initially although as weekend progresses heavy snow will start to affect eastern with some of that snow fall heading west through the central lowlands.
"The weather is set to stay cold into next week however there is still a lot of uncertainty on whether the cold and snowy weather will last through the Christmas period."
Measures announced by the Scottish Government include:
Storing additional salt and grit at key locations on the national trunk road network for quicker access
Using traffic management resources to enable diversions where necessary
Further improving the Operating Companies resources by adapting vehicles, such as landscaping vehicles, for clearing snow
Using the option of removing trunk road and motorway central barriers to allow easy access to blocked or broken down vehicles
Working with the Police to consider how we can stack HGVs if conditions deteriorate in order to keep traffic moving
Providing central Scotland's Trunk Road Incident Support Service (TRISS) emergency response vehicles with welfare kits of blankets and supplies
IN DETAIL
FROM STV LOCAL