School league tables published in Scotland
Check out STV's breakdown of your school, others in your area and schools across the country.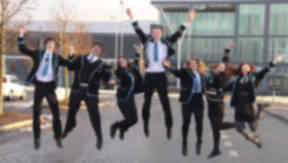 New information on every school in Scotland including exam result success, uptake of free school meals and absence rates have been published online.
The Scottish Schools Online website, released by Learning and Teaching Scotland on behalf of the Scottish Government, gives parents and pupils an insight into how their school is doing in a variety of fields.
As well as new information published today, the site contains details of HMIE school reports, leaver destinations and general information about the school.
East Renfrewshire Council is celebrating after three of its schools appeared in the Scottish top five in the category related to S5 students who attain five Highers at A - C grade or better. The top 5 were:
Williamwood High School, Clarkston (East Renfrewshire Council) - 46%
Jordanhill (Glasgow City Council) - 45%
St Ninian's High School, Giffnock (East Renfrewshire Council) - 42%
Cults Academy (Aberdeen City Council) - 40%
Mearns Castle High School, Newton Mearns (East Renfrewshire Council) and North Berwick High School (East Lothian Council) - 34%
The national figure was 11%. Graham McCallum, one of the deputy head teachers at Williamwood High School, told STV News: "We are delighted with the performance of our teachers and pupils. 
"Our focus in recent years has been on the improvement of teaching - a real drive on teachers improving their craft. This result will open doors for our young people."
Some local authorities across the country have welcomed the figures while others, like North Lanarkshire, branded them "meaningless and misleading".
STV has published full breakdowns of the exam and performance indicators for every secondary school in Scotland.
It is the most comprehensive guide to school performance available - giving figures for absence, as well as the key figures for the number of pupils who achieving at least one, three and five Highers at the benchmark grades of A - C.
Check out your school now
IN DETAIL
FROM STV LOCAL