Rangers 'have agreed Ibrox renaming deal with Sports Direct'
Charles Green said he is hopeful or releasing images of how the stadium would look.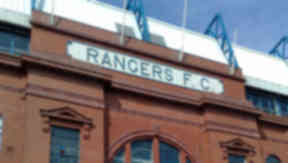 Rangers have agreed to sell their stadium naming rights to sports retailer Sports Direct, the club's chief executive has claimed.
Charles Green said the deal would be finalised in the coming weeks, with artist's impressions of how Ibrox would look under the changes expected to be released on the club website.
Sports Direct majority shareholder Mike Ashley owns a stake in Rangers International Football Club plc, while his firm has entered into a joint venture as the club's official merchandising supplier.
On Monday, the club's results for the second half of 2012 were released to the London Stock Exchange where it was revealed that the company ran at a £7m loss during that period, while cash in the bank sat at £21.1m.
In an interview with STV, Mr Green stated that he expects the stadium naming deal to be finalised and announced soon, on the back of a one year shirt sponsorship agreement with Blackthorn Cider and a five-year kit deal with Puma that were revealed last week.
He said: "We have now decided that Sports Direct will be the partner (for stadium naming). We had representatives from Sports Direct up for a fans' forum a couple of weeks ago. We also had Derek Llambias of Newcastle United sharing his experience of how that helped his club.
"We are now into the stage where we are doing some layouts, some pictorials of how it might look and we'll stick those on the website shortly so the fans can see what's being proposed.
"We have had good engagement from the fans on this. I think it was always an issue for fans but I think the fans accept now that this is something that we have to do. Almost all of the big stadia have been named now."
He stated that he hoped the Ibrox naming rights deal would be concluded in the coming weeks and would be in place for the start of next season.
Mr Ashley previously came in for criticism from Newcastle United fans after he renamed the club's home ground of St James Park to the Sports Direct Arena. The board claimed the move could generate up to £10m a year and moneylender Wonga purchased them as part of a shirt sponsorship deal last October, before it promptly returned the ground to its original name.