Has the Catholic Church handled the Cardinal's resignation well?
Scotland Tonight discussed Cardinal O'Brien's admission that his 'sexual conduct' was unacceptable.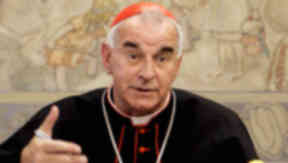 Following Cardinal O'Brien's admission on Sunday that his sexual conduct "had fallen beneath the standards" expected of him, Archbishop Tartaglia told a congregation that the scandal has "dealt a serious blow" to "the credibility and moral authority of the Catholic Church in Scotland".
The cardinal is to face a Vatican inquiry once a new Pope is selected after saying that he would not contest the claims of three priests and a former priest of inappropriate behaviour dating back to the 1980s.
The revelation has shocked the Roman Catholic community in Scotland.
Cultural adviser to the Vatican Professor John Haldane, Scotsman journalist Peter MacMahon, Patrick Harvie MSP and Catherine Deveney — the journalist who broke the story of the allegations against Cardinal O'Brien — joined Scotland Tonight to discuss the issues.