Letter from lawyer to police over cardinal 'is not formal complaint'
It has been reported that Mr Freeman had written to Lothian and Borders Police making a formal complaint.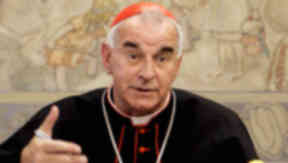 A letter to police from controversial lawyer Nick Freeman regarding cardinal Keith O'Brien is not being treated as a formal complain.
It has been reported that Mr Freeman had written to Lothian and Borders Police making a formal complaint.
The contents of the letter do not however allege any criminal activity and Mr Freeman does not state he has been the victim of a crime, STV understands.
A spokesman for the force said it had not received a "formal complaint".
The cardinal's revelation that he would not contest the claims of three priests and a former priest of inappropriate behaviour dating back to the 1980s shocked the Roman Catholic community on Sunday.
Cardinal O'Brien will now face a Vatican inquiry, though that is not likely to begin until after a new pope is chosen.Mr Freeman told The Daily Mail he had hoped to "trigger a full criminal investigation".
"I was shocked to hear there is to be an internal investigation only. This will be heard behind closed doors and the full findings would not be published," he said.
"This isn't justice. Justice needs to be seen to be done and the Catholic Church has a moral and legal obligation to co-operate fully with any criminal investigation."
On Monday Archbishop Philip Tartaglia, the most senior Catholic leader in Scotland, believes the scandal over Cardinal O'Brien has "dealt a serious blow" to "the credibility and moral authority of the Catholic Church in Scotland".
The Archbishop of Glasgow and Apostolic Administrator of the Archdiocese of St Andrews and Edinburgh made the comments in a pre-scheduled Lent Station Mass at St Andrew's Cathedral in Glasgow.
Following that the cardinal's admission on Sunday that his sexual conduct "had fallen beneath the standards" expected of him, Archbishop Tartaglia conceded that charges of hypocrisy, which had been made for "obvious reasons", were the most stinging charge levelled against the church.
Your report: If you have information on this or any other story, please let us know. You can send information, pictures to web@stv.tv or call us on 0141 300 3264.
Feedback: We want your feedback on our site. If you've got questions, spotted an inaccuracy or just want to share some ideas about our news service, please email us on web@stv.tv.