Staff told Hearts 'could go into administration' over ownership confusion
Employees were informed at a meeting on Tuesday as confusion continues over Vladimir Romanov's stewardship.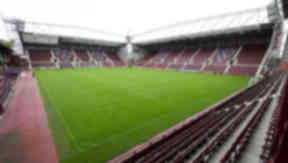 Hearts staff have been told the club could go into administration - as they await news from Lithuania on the ownership situation at Tynecastle.
STV understands some employees had a general briefing on the situation at the club on Tuesday morning.
Officials stated administration was a possibility if the right assurances were not received from majority shareholders UBIG. Administration was mentioned as one, but not the only, possible outcome.
It is understood Hearts director Sergejus Fedotovas expects to receive news from Lithuania later on Tuesday, which it is hoped will make the financial picture at Tynecastle clearer for the current board of directors.
In response, a spokesperson for the club said: "There has been no staff meeting. Staff have not been informed the club could go into administration.
"As far as the club is concerned, this story is lacking in any foundation."
It emerged on Monday evening that Vladimir Romanov had quit from the board of UBIG, the company which owns 79% of the club's shareholding. A new board of directors will be appointed at UBIG in due course.
The resignations at UBIG followed the suspension of trading at Lithuanian bank Ukio Bankas, which funds the company.
If the club went into administration before the end of the 2012/13 Scottish Premier League season, they would be deducted 18 points from their current tally.
Rules previously dictated club would lose 10 points upon being subject to "an insolvency event". New guidelines brought in this season state a club can instead be docked 10 points or a third of their previous season's tally, whichever is greater, rounded up.
Hearts finished on 52 points in the 2011/12 season, meaning they would stand to lose 18 from this campaign's tally. Dundee are currently 15 points behind Hearts at the bottom of the table.
In a statement on Tuesday, Fedotovas moved to reassure supporters by stating the ownership structure at Tynecastle hadn't change, but couldn't verify whether Romanov's control over the club via UBIG had ceased.
He said: "Despite recent changes to the board at UBIG, the board structure at Heart of Midlothian remains unchanged.
"The information that Mr Vladimir Romanov has relinquished his control of Hearts is pure speculation and we do not have any information to that effect.
"Changes at UBIG board do not reflect any changes in the holding structure of Mr Romanov's ownership.
"I would like to reassure supporters of the club that the board of Hearts' focus is entirely on this club and continuing the work that has allowed us to be within touching distance of having a self-sustainable business.
"This then allows us to truly develop the club both on and off the field in the seasons ahead. It is a work in progress at the moment but we are satisfied with the progress being made.
"It is also right to acknowledge that one of the principle reasons for us being unaffected at this stage by events in Lithuania is the excellent support that the fans and staff have provided to the club.
"With this continued support and ongoing diligence by the club's board of directors we believe that there is no threat to Hearts."