Football fan bit off part of Hibs supporter's ear in mass brawl
Scott Lawson was part of a fight involving 50 people at Glasgow Central Station.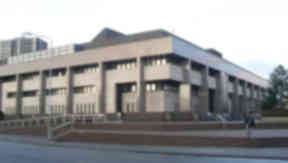 A football fan with a "Rangers/Chelsea connection" bit off part of a Hibernian supporter's ear in a mass brawl.
Scott Lawson attacked Ian Taylor after getting off a train at Glasgow Central Station following Hibs' match against Ayr United.
The 27-year-old was part of a group of "football casuals", Warren Miller, 28, and Stuart Younger, 30, from Alloa, who challenged the Edinburgh fans to a fight.
Lawson, Miller and Younger pled guilty at Glasgow Sheriff Court on Thursday to engaging in behaviour likely or would be likely to incite public disorder by forming part of a disorderly crowd, fighting, gesticulating, throwing missiles, challenging others to a fight and placing those nearby in a state of fear and alarm.
Lawson, from Doncaster, also admitted assaulting Mr Taylor to his severe injury and permanent disfigurement by biting his ear.
Procurator fiscal depute Mark Allan confirmed that the fight was organised and Lawson's group, who arrived at the station in time to greet the Hibs fans, had a "Rangers/Chelsea connection".
CCTV footage of the incident was played in court and showed the three men taking part in the mass disturbance. Lawson was seen attacking Mr Taylor and staying fixed to his ear for a number of seconds.
The court was told by Mr Allan that the men appeared from the Hope Street entrance of Central Station and around 50 people were involved in total. He said: "In the aftermath, what was recovered by police and photographed by police lying in the middle of the concourse of central station was the remaining part of the ear of Ian Taylor."
Mr Taylor attended Edinburgh Royal Infirmary that night where medical staff confirmed he had lost a portion of his left ear.
The victim was given a tetanus jag and returned the next day for plastic surgery when the "ragged edges" of the wound were removed and it was stitched after the attack on March 10 last year.
In 2009 Younger was sentenced to £350 at Carlisle Magistrates' Court and ordered to pay £60 costs and £15 victim surcharge after he admitted threatening behaviour. On a night out in Carlisle with friends he ended up in a fight with a Carlisle fan. He was also made subject of a three-year football banning order that was subsequently put in place for him in Scotland and was in place at the time of the offence last year.
Jim Clarke, defending Lawson, said his client was not part of the organised group. But sheriff Martin Jones QC told the lawyer Lawson was at the forefront of the crowd.
He said: "I think I can infer quite clearly he was one of the ringleaders". Miller and Younger were released on bail pending their sentence next month. Lawson was remanded in custody.
Sheriff Jones told the men: "I have seen the video of your behaviour and behaviour of others and you are all responsible for everything that happened. The indiscriminate violent behaviour involving members of the public is something that will not be tolerated under any circumstances."