Controversial wind farm gets the go-ahead
A wind farm that will power double the number of homes in Inverness has been approved.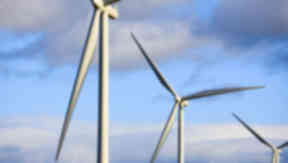 A wind farm which has been the subject of much anger in the Highlands has been given the all-clear.
The 33 turbine Dunmaglass wind farm to be located 20 miles south of Inverness will supply enough electricity for 46,000 houses.
Ornithologist Roy Dennis was opposed to the scheme, which he believes endanger the golden eagles living in the area. The Cairngorms National Park Authority and John Muir Trust had also opposed the scheme back in 2005 when it was first touted.
As a result of their opposition the development was reduced from 36 to 33 turbines. Following consultation, the Highland Council supported the application and raised no objections.
Around 55 people will be employed during the construction phase and the development will provide lasting community benefits.
The news follows recent statistics that show 27% of Scotland's electricity needs came from renewable energy in 2009.
Energy Minister Jim Mather said: "This is another step on the road to a low carbon Scotland, with a further 46,000 homes set to be powered by clean, green electricity.
"Scotland already gets over a quarter of its electricity needs from green sources and consent for this new development rounds off another tremendous year for renewables."