Iain Gray urged to apologise in Montenegro 'ethnic cleansing' row
Scottish Labour leader sparked row over 'simply incorrect' comments at Holyrood.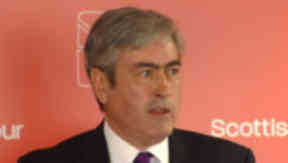 Labour's Scottish leader has been urged to apologise after sparking a diplomatic row over comments linking Montenegro to ethnic cleansing.
A Montenegrin diplomat has written to the Scottish Labour leader to complain over a statement by Iain Gray in the Scottish Parliament just before Christmas.
During First Minister's Questions, Mr Gray said he had looked at the SNP website for arguments in support of independence and that it cited Montenegro as having gained its independence in 40 days.
The SNP website states: "Montenegro shows us just how easy it can be to become an independent country. Forty days is all it took for Montenegro to regain her freedom. It could be Scotland next."
But Mr Gray said it took "forty days, two world wars, the Balkan conflict, ethnic cleansing, a war crimes tribunal and a UN peacekeeping mission".
Marijana Zivkovic, Charge d'Affaires at the Embassy of Montenegro in London, has rebuked him over the comments he made at Holyrood on December 23.
In a letter to Mr Gray, which was also copied to First Minister Alex Salmond and Labour leader Ed Miliband, she expressed her "deep regret" about the way he depicted the country in his public statement.
She wrote: "Your statement that Montenegro was involved in 'ethnic cleansing', including your references to 'a war crimes tribunal and a UN peacekeeping mission' is simply incorrect."
She continued: "It was the only former Yugoslav republic where neither war nor devastations took place in the last decade of the 20th century. Apart from the fact that there was no ethnic cleansing, Montenegro also opened its doors to the refugees of all nations."
Ms Zivkovic concluded: "I remain open for any further explanations or communications to this regard and other issues of mutual interest."
The country was formerly part of Yugoslavia and then the State Union of Serbia and Montenegro, but gained its independence in 2006 following a referendum.
Before its independence, a 1992 UN paper on the situation in Bosnia and Herzegovina said it was "gravely concerned" about human rights abuses by Serbian and Montenegrin forces.
SNP MP and foreign affairs spokesman Angus Robertson called on Mr Gray to apologise for his comments.
He said: "We are used to Mr Gray not letting the facts get in the way of his rhetoric but he has now managed to let his international ignorance embarrass Scotland. That is not good enough.
"He needs to do the decent thing and apologise to the people of Montenegro. And, he also needs to apologise to the people of Scotland for the embarrassment his gaffes have caused."
A Labour spokesman said: "Iain Gray will of course reply to the Montenegrin embassy and inform them in full of his comments and the context he made them in. They should not be construed as a criticism of Montenegro.
"The SNP website's assertion that Montenegro's path to independence took 40 days and "showed how easy it can be to become an independent country" was facile and ignored the history of the wider region through two world wars and the dissolution of Yugoslavia.
"To re-establish statehood as a modern democracy was a remarkable achievement and should not be referred to glibly as 'easy'."