Heavy snow and blizzards set to cause travel problems across Scotland
The Met Office issued amber weather warnings for Scotland.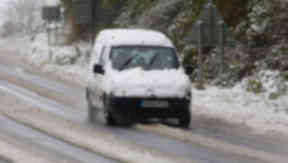 Heavy snow and blizzards expected to cause travel disruption across parts of the country this week.
On Tuesday, some areas of high ground in the east are predicted to see as much as half a metre of snow, with motorists being warned over widespread icy conditions expected to last most of the week.
The Met Office upgraded current yellow warnings to amber ones for severe weather for a large part of Scotland including Aberdeenshire, Tayside, Fife, Edinburgh and Lothians and parts of the Borders.
STV weatherman Sean Batty said: "Rain will turn increasingly to snow across eastern areas of Scotland during Monday with the heaviest falls expected throughout Monday night and Tuesday across Aberdeenshire, Tayside, Fife, Edinburgh and Lothians and parts of the Borders.
"By the end of Tuesday these areas are likely to have widely 5-10cm of snow with considerably over higher ground where this could amount to as much as nearly half a metre on the eastern end of the Grampians. The snow will be accompanied by a strong easterly wind which will give a significant wind chill and give blizzard conditions.
"An additional hazard will also be drifting of lying snow, which may give some large drifts in some parts, especially high level routes. Travellers in eastern Scotland should be aware of a high level of disruption over the next few days with a high chance of snow gate closures and widespread icy conditions."
He added: "While the snow should ease into Wednesday, cold weather can still be expected for the remainder of the week, still with significant wind chills especially in the east with some very low temperatures over snow-covered areas. There is the potential for -8C to -10C temperatures in rural areas. There's a further risk of more snow during the weekend with the cold conditions likely to last at least into next week."
Traffic Scotland has put in place alerts for drivers across the country as the weather is expected to take a turn for the worst.
It said motorists should expect: "Increased stopping distance, reduced visibility, increased journey time, lane markings obscured, obstructions on the road (abandoned vehicles), risk of ice patches and snow gate closures."
Transport Minister Keith Brown urged commuters to pay attention to travel updates throughout Tuesday.
He added "The next 24-48 hours look set to be challenging for our transport networks, commuters and the public. We are already doing all we can to ensure Scotland is prepared for disruption. Drivers can play their part by planning journeys in advance and using other forms of transport where available."
Tayside Police Sergeant Craig McBean has appealed to motorists to make sure their vehicles are ready for winter driving conditions.
He said: "It is vital that all motorists check that their vehicles can cope with the extremes of Scottish weather. Before travelling, check the weather forecast and make sure you are equipped with warm clothes, food and a torch just in case. Tune in to travel information and leave plenty of time for your journey.
"Check all lights to ensure that they are clean and in good working order and use dipped headlights instead of sidelights. This ensures good visibility to the front of the vehicle and makes your vehicle visible to other road users. Washer bottles should be kept topped up with screen wash, and wiper blades kept in good condition.
"Don't drive away until windows have been properly cleared of ice and mist. It is not safe to drive a vehicle when you cannot clearly see ahead and to the sides. Where necessary clear windscreens and windows of ice and snow, as well as roofs, bonnets and boots."