Polls suggest most Scots want televised independence debates
Both campaigns have called for live debates to be aired ahead of the 2014 referendum.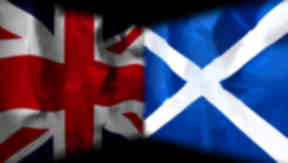 Two polls have suggested Scots want to see political leaders square off in TV debates ahead of the independence referendum in 2014.
The pro-union Better Together campaign released a survey showing 71% of people want First Minister Alex Salmond to face its leader Alistair Darling, the Labour MP and former Chancellor.
Meanwhile, a separate poll published by the SNP showed 67% want Prime Minister David Cameron to meet Mr Salmond in a TV debate.
The surveys, both conducted by YouGov, come as the SNP holds its spring conference in Inverness, just days after Mr Salmond revealed the ballot will be held on September 18 next year.
Ahead of the conference, nationalists called for a live debate between the First Minister and David Cameron.
Deputy First Minister Nicola Sturgeon said the Prime Minister had a 'duty' to argue his case against Mr Salmond.
"David Cameron has a duty as the most senior politician in the anti-independence movement to come forward and stop hiding from this challenge," she added.
Mr Darling said people are desperate for facts.
His group's poll also showed 73% of people do not feel they have been given enough details about how independence could work.
Among SNP voters in the survey of 1091 people, only 49% said they had enough information on which to base their decision.
The Scottish Government is expected to publish its detailed White Paper on independence later this year.
"People know that if the nationalists had the answers to their questions, we would have heard them by now," said Mr Darling.
"The fact is that they cannot answer the most basic questions about independence. Setting the date is not enough. Salmond must set out the detail."