Dunfermline owner tells staff he will announce club's fate on Tuesday
Gavin Masterton addresses staff at East End Park as the club has hours to be saved.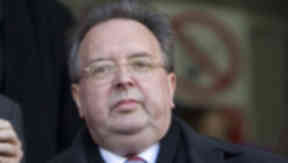 Dunfermline Athletic owner Gavin Masterton will not announce the future for the financially stricken club until Tuesday.
The club faces being wound-up over a £134,000 tax bill and options put forward include voluntarily going in to administration or being liquidated.
Masterton and the Dunfermline board met non-footballing staff at the club's East End Park stadium on Monday morning to update them.
The club owner will make a statement on the club's future on Tuesday – after the 5pm deadline to settle the HMRC bill.
Former Dunfermline player and manager Jim Leishman, who had been fronting a fans' steering group to take power at the Pars, said supporters may not discover the club's fate for another day.
Leishman said: "Gavin Masterton had a meeting with staff this morning and told them he would make an announcement tomorrow.
"Nothing has changed from last week. The options include administration or liquidation.
"I'm just an employee of the football club - Gavin Masterton is in charge of the club's future."
STV News has been told that around 16 members of staff attended the meeting with the board of directors.
A member of staff who was present said: "Everyone at the stadium was there. It was with the board of directors - Gavin Masterton, Tracey Masterton, and Tracey Martin.
"We've been told that a decision will be made, and we will be made aware of that decision as soon as it has been made.
"The staff are no further forward.
"Everything's on hold at the moment. We're just all trying to remain upbeat about it all. We're getting ready for the game on Wednesday."