Hundreds gather in Glasgow for 'party' to mark Thatcher's death
Glasgow City Council urged anyone planning to celebrate the death of Margaret Thatcher to 'stay away'.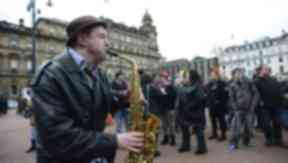 More than 300 people gathered in Glasgow city centre on Monday night to "celebrate" the death of Baroness Thatcher.
The event was organised on social media sites, which were flooded on Monday afternoon following Mrs Thatcher's death from a stroke in London, and saw members of various organisations descend on Glasgow to hold the impromptu "party".
Members of organisations including the Anti-Bedroom Tax Federation, the Communist Party, the Socialist Party, the Socialist Working Party, the International Socialist Group, were joined by members of the public in Glasgow's George Square.
Glasgow City Council had urged anyone planning to celebrate the former Prime Minister's death to "stay away" from the area.
One group on Facebook, Thatcher's Deed - Party in George Square - Tonight!, had more than 1000 followers saying they would be marking her passing in the civic space, with a further 6500 people invited.
A spokesman for Police Scotland said: "We're aware of the reports of a gathering in George Square and will police appropriately."
Glasgow City Council issued a statement urging revellers to "stay away".
The statement read: "Regardless of whether or not it's appropriate to have a party to celebrate someone dying, this event was organised without involvement or consent from the council and we have safety concerns for anyone attending.
"Organisers of legitimate events must get permission to use the square. They must also satisfy the council that they will take safety precautions such as providing first aiders, sufficient public toilets and stewards, as well as obtaining public liability insurance. We urge people to stay away."
Anti-capitalist campaigners shouted from loudspeakers, "Maggie, Maggie, Maggie" as the crowd replied "dead, dead, dead".
One person in attendance, Joshua Brown from the Unite the Resistance movement, said: "We're having a great time, down here. We have banners, placards, a sound system — there's a real celebratory atmosphere!"
Other protesters said they were "here to celebrate the death of a woman with blood on her hands — for the Falklands and miners".
The gathering broke up shortly after 8pm.
In 2011, Glasgow band Mogwai released their album Hardcore Will Never Die, But You Will which featured a track entitled George Square Thatcher Death Party that some say formalised the notion of such an event in the consciousness of many protest groups.