Galloway to stand for election to Scottish Parliament
Former MP George Galloway confirms he is to stand but immediately attacks the level of debate at Holyrood.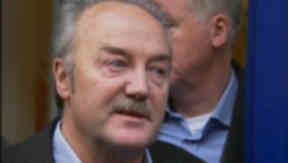 Former MP George Galloway has confirmed he is to stand in this year's Holyrood election but immediately attacked the level of debate in the Scottish Parliament.
Mr Galloway, who is still to decide whether he will run as a candidate for the Respect Party or as an independent in Glasgow, likened the parliament to a glorified town council which lacks heavyweight politicians.
Speaking to STV News, Mr Galloway said: "The parliament is too often a bit like the Cumbernauld council rather than a national parliament and I think I could make a difference to that."
Describing himself as "a pioneer of the fight for home rule in Scotland", Mr Galloway said his first priority if elected as an MSP would be to "speak up for Glasgow".
Born in Dundee, Mr Galloway, 56, was a Labour MP for Glasgow for 18 years.
He then stood for the anti-war Respect Party in 2005 after being expelled from the Labour party by Tony Blair, winning a seat in London's Bethnal Green and Bow from Labour MP Oona King.
However, he failed to secure the nearby Poplar and Limehouse seat as a Respect party candidate in the May 2010 general election.
His campaign to become an MSP follows tension between himself and convicted perjurer Tommy Sheridan's Solidarity party.
It emerged this week that Sheridan's wife Gail may stand for the party - a move that "surprised and upset" Mr Galloway, who said he could have led a campaign with her as number two.
The pair had been discussion about standing together under the same banner, but that idea foundered over the issue of Scottish independence and Mr Sheridan's tarnished reputation.
The revelations prompted an intervention on Saturday night from Mr Sheridan, a former MSP who split from the Scottish Socialist Party and who faces jail over his perjury conviction later this month.
Sheridan released a statement outlining Solidarity's attempts to "forge greater left unity".
He said: "Should a link-up with George and Respect not prove possible we would obviously urge Glasgow citizens to back the Solidarity list with their second vote but should they not be convinced to do so would also welcome the election of George to represent Glasgow.
"In 2003 Glasgow elected three candidates of the left. In 2011 we hope that is again possible.
"George Galloway has been a left-wing leader for many years who deserves respect. His contribution to the anti-war movement in particular is worthy of note.
"However, Solidarity and its members have been the foot soldiers and leadership of every major anti-war, anti-cuts and anti-poverty campaign in Scotland over the last four years. We have a proud record and an inspiring banner that deserves to be raised throughout Scotland in May's elections."
The party's national secretary, Graeme McIver, also hoped for an agreement.
In a statement, McIver said: "As part of these ongoing discussions we would welcome the opportunity to sit down with representatives of the Respect Party to see if any agreements can be reached on the issue of joint slates with ourselves and possible coalition partners in Glasgow Region."