More than 2000 knives were seized in Scottish courts last year
Justice Secretary Kenny MacAskill says improved security has lead to massive rise in number of weapons confiscated.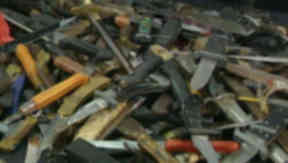 More than 2000 knives were seized in Scotland's courts last year, Justice Secretary Kenny MacAskill has revealed.
The Scottish Court Service confiscated 2030 weapons in 2010, compared to 311 in 2007.
The weapons included kitchen, Stanley and pen knives, scissors, razor blades and knitting needles.
Mr MacAskill, speaking during themed questions in Holyrood on Thursday, said the rise from 311 in 2007 to 1518 in 2008, increasing to more than 2000 last year, could be attributed to improved security in courts, improved recording and reporting, and greater awareness among staff.
He said: "The discovery of any weapon or potential weapon by staff is immediately reported to police, who have a presence and responsibility for public order in all our court buildings, and successful prosecutions have resulted from the Scottish Court Service's security arrangements."
Labour MSP Andy Kerr, who asked Mr MacAskill for the figures, said the statistics showed "a complete lack of faith and respect" for the Scottish Government's approach to knife crime.
Mr Kerr said: "Will the minister finally see that his approach is not working and it's time to join tens of thousands of other Scots who want to see Labour's plans for a minimum mandatory sentence for knife carriers being brought into law."
Mr MacAskill said knife carrying in courts was not a new problem.
He said the actions of the Government were working, with a higher police presence in communities and courts and a drop in violent crime.