The Agenda: Green goes, Boston suspect held, metrosexual misgivings
We look at the stories setting the agenda across Scotland, from news, to light relief and opinion.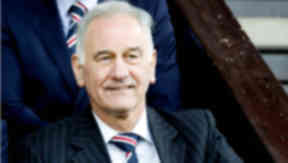 A look at the stories setting the agenda across Scotland, from news, to light relief and hard-hitting social and political commentary.
The hard stuff
Rangers chief Charles Green quits over fresh links to Craig Whyte
The Daily Record covers the fallout from the departure of Ibrox boss Charles Green.
Alistair Darling supports Lamont's income tax plan
The former Chancellor is backing Scottish Labour's bid for full devolution of income tax powers, according to The Scotsman.
590 Scottish Coal jobs axed as energy firm goes into administration
Scottish Coal has entered administration with the loss of almost 600 jobs, The Daily Record reports.
Scottish tourism loses £½m every day
The Scotsman reports on a £200m slump in tourism revenues in the space of one year.
The light stuff
60 years in the job and still not post it
Sutherland-based sub-postmistress -- a delightfully quaint word, incidentally -- Esther Brauer is celebrating 60 years in the job. And, at 82, she has no plans to retire. "I'm only 22 in my head," she tells The Scottish Sun.
The write stuff
Misgivings of a metrosexual: Scotsman columnist Stephen McGinty on "standing in an aisle of Morrisons pondering which of the multiple brands of moisturiser would best suit my current needs". We promise not to bring this up the next time he's on Scotland Tonight.
Sir Chris Hoy bows out a true British great
National treasure Lorraine Kelly writes in The Scottish Sun that other national treasure, and champion cyclist, Sir Chris Hoy's retirement is well-deserved.
Holding a semmit on how to teach our language
Catriona Stewart wonders in The Herald what pop culture has to teach us about language.
The international stuff
Boston bombings: Second suspect captured by police
A second suspect in the Boston marathon bombing has been taken alive, though injured, by police investigating the incident that killed three people. The Scotsman reports.
Japan's Jiroemon Kimura has marked his 116th birthday, The Herald reports, making him the oldest person alive.
Earthquake in Sichuan, China kills at least 46
The Scotsman has details of a devastating earthquake, measured at magnitude-7, which has killed 46 and left officials warning of more casualties to come.