Fire service exercise sees plane 'crash' into city centre building
Around 50 firefighters joined ambulance crews and police officers to tackle Glasgow 'disaster'.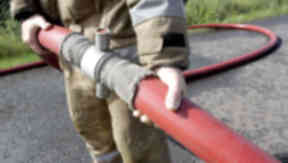 The nightmare scenario of an aircraft smashing into a multi-storey building in Glasgow city centre was played out on Sunday as a fire service exercise.
Around 50 firefighters from Scottish Fire and Rescue Service (SFRS) were joined by ambulance crews, police officers and workers from other agencies for Exercise Skycatcher — a "highly realistic challenge, featuring multiple casualties and a series of evolving hazards".
The exercise took place at Cowcaddens Fire Station in Port Dundas Road near to the M8 motorway between 8pm and 10pm.
Assistant Chief Officer Dave Boyle, the SFRS director of service delivery in the west of Scotland and the senior officer for Glasgow, said: "We all hope never to face an incident like this for real, but history has proven the need for emergency services to be prepared if disaster does strike.
"In January this year, we saw tragedy unfold when a helicopter collided with a high-rise building in London, and that was a stark reminder of a similar crash on the outskirts of Glasgow that killed a police officer in 1990.
"Skycatcher brought together all the emergency responders who would be involved in this type of situation, providing an invaluable opportunity to work together in order to save casualties and prevent a disaster escalating."
The exercise scenario imagined a light commercial aeroplane had crashed into the third floor of an eight-storey tower block.
Firefighters called to the scene found the plane's tail section engulfed in flames and jutting from the side of the building. Thick smoke billowed from the aircraft and filled the building's upper floors, with the third storey having partially collapsed.
Rubble from the impact had fallen on to two cars in the street below, "trapping" the occupants in their vehicles and leaving them with severe injuries.
Firefighters used specialist hydraulic cutting equipment to free those trapped inside the cars, while others searched for and helped "casualties" suffering from crush injuries, impalement, broken bones and lacerations.
ACO Boyle added: "Incidents of this scale are complex and firefighters have to adapt as new information becomes available. To keep this exercise as realistic as possible, those first on scene did not know people were inside the upper floors until it was confirmed by a member of the public doing a head count of staff at an assembly point.
"Participants had to demonstrate their knowledge, skills and understanding of the complexities of dealing with a serious incident involving fire, road traffic collision and urban search and rescue. Initial crews provided casualties with life-saving medical help before the ambulance service arrived to take over their care.
"Skycatcher has been a valuable exercise that will greatly benefit all those involved. It is absolutely vital that we prepare for the worst in order to deliver the best level of protection, which is what the people of Glasgow and Scotland deserve."