Brian Adam: Honourable man whose life transcended political divides
Friends and rivals alike have spoken warmly about the qualities of the late Brian Adam MSP.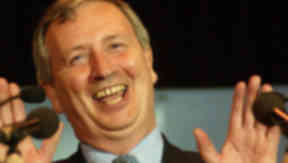 Kevin Stewart found it difficult to hold back tears when he talked about his late friend and mentor Brian Adam, who died on Thursday from cancer at the age of 64.
According to Stewart, an Aberdeen MSP, who followed in Adam's footsteps in the Granite City, Scottish politics - regardless of petty party spats - will be the poorer for the demise of "the most honourable, trustworthy gentleman" he ever came across.
Stewart grew up admiring his Nationalist colleague, who served as a councillor in the north-east from 1988 onwards, before being elected to the maiden Scottish parliament in 1999.
Indeed, he joined the SNP in the first place after being inspired by Adam's rise from a training in biochemistry to becoming a tireless champion for the NHS.
Mr Stewart said: "Brian's philosophy was based on the principle: never promise anything you can't deliver.
"He avoided the limelight, but, behind the scenes, he worked tirelessly for his constituents, and he never stopped fighting for them, whether or not they had voted for him.
"It's a very sad day today in the [Holyrood] chamber. People, no matter their political affiliation, respected Brian and he was simply one of the best people I have ever known."
These words reflect the qualities possessed by Adam, born in the Banffshire village of Newmill in 1948, who, almost from the outset, became one of Scotland's renowned "lad o pairts".
He was a cerebral youngster and graduated with a BSc and MSc in Biochemistry and Clinical Pharmacology from the University of Aberdeen. But he was also a down-to-earth fellow, who worked as a trade union activist and fought hard to preserve local services, in addition to backing such organisations as the Haemophilia Society.
Adam was an active member of the Church of Latter-day Saints [the Mormons] and took his faith seriously. But, away from politics and religion, he was an avid follower of Aberdeen FC and attended many of their games during the last 50 years. In that light, it was perhaps appropriate that he ended up as the sitting member for Aberdeen Donside.
Another north-east MSP, Lewis Macdonald, also visited Pittodrie regularly and, although the two were on opposite sides in the Scottish Parliament, that didn't lessen their friendship.
As Macdonald recalled: "I knew him as a trade unionist, as a councillor and a football fan, as well as an MSP. He was always assiduous in arguing Aberdeen's case within his own party and his tenacity on behalf of the city will be missed.
"He was chief whip for the SNP when they formed a minority government in 2007 and his hard work was rewarded by an all-too-brief stint as a government minister in 2011-12.
"Sometimes, Brian and I were on the same side of an argument, sometimes we were not.
"But he never took disagreement personally, and he was always able to work with people from other parties when that was the right thing to do."
Mark McDonald, another SNP MSP in Aberdeen, pointed out on Thursday that Adam transformed the Nationalists' fortunes in the city which he loved. When he was initially elected in 1988, as a representative for Middlefield and Heathryfold, he was the sole SNP member on the local authority. Within a decade, that number had risen to 15.
Yet, in the bigger picture, although it may offer little consolation at the moment to Brian's wife, Dorothy, and their five children - Neil, Jamie, Sarah, David and Alan - his abiding legacy will be to demonstrate that political achievement and human decency can go hand in hand.
Mark McDonald summed it up thus: "He was the kind of gentleman who would go the extra mile for the rest of us. If everybody in politics was like Brian, politics would have a higher reputation."