Football pundit Gray is sorry for sexist jibe
Sky Sports presenter and former Scotland star Andy Gray is forced to apologise for his off-camera comments aimed at a female assistant referee.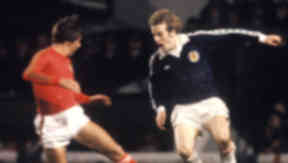 **Sky football pundit Andy Gray has been accused of sexism after he was caught claiming a female assistant referee didn't know the offside rule. **
The former Scotland and Rangers star was forced to apologise for his comments about Sian Massey, 25, made before Saturday's Wolves vs Liverpool clash.
Gray, 55, who didn't realise his microphone was switched on, said: "Can you believe that? A female linesman. Women don't know the offside rule."
Fellow presenter Richard Keys then joined in with the banter, adding: "Course they don't. Somebody better get down there and explain."
Although no part of the chat was broadcast, it was leaked to the public on Sunday and within minutes, the conversation was posted on youtube.
A spokesman for Sky Sports said: "The comments reported are not acceptable. They have apologised and expressed their regret."
Highly-rated Massey, 25, went on to get a crucial offside call correct in the build-up to Liverpool's opening goal in their 3-0 win.
Gray is not the first football pundit to suffer a microphone gaffe.
Former Manchester United manager and ITV pundit Ron Atkinson was forced to resign after viewers heard him make a racist comment about Chelsea defender Marcel Desailly in 2004.
And in the world of politics, two recent incidents hit the headlines.
Brown apologises after being caught calling voter 'bigoted'
Gordon Brown offers apology after he was recorded speaking to aide about meeting with voter.
MSP Frank McAveety caught out in 'dusky girl' microphone gaffe
Petitions committee convener apparently described member of audience as "attractive' and "very slim".