Sturgeon calls on Better Together to investigate £500K donation
The deputy first minister said the money from Ian Taylor should be handed back pending an internal inquiry.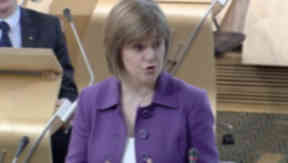 Nicola Sturgeon has stepped into the row over a £500,000 donation to the Better Together referendum campaign by an oil executive.
The deputy first minister told MSPs at Holyrood that an investigation should be held into allegations about international dealings by Vitol, whose president and chief executive Ian Taylor donated the cash.
Concerns about the company's business dealings in Iraq and the former Yugoslavia were raised in an online article published by National Collective, a group of artists and writers which supports independence.
Vitol has acknowledged making some payments to Saddam Hussein's regime outside the scope of the UN's oil-for-food programme but rejects claims they were anything other than surcharges demanded by the state oil company.
The firm was also accused of being linked to an oil deal involving Serbian criminal Arkan, who led paramilitary forces in the former Yugoslavia in the 1990s.
Vitol has rejected any suggestion of illegal conduct and says it was not investigated by any government or authority.
In response to a question from an SNP backbencher, Ms Sturgeon told Holyrood: "It's not for me to run the No campaign, but I do agree it would be a wise course of action for them to hand back the money pending an internal investigation."
The National Collective website was taken offline for more than a week after lawyers acting for Mr Taylor threatened to sue the group for defamation.
Blair Jenkins, director of the Yes Scotland campaign, has also queried Mr Taylor's donation on the grounds that the oil executive is not eligible to vote in the referendum.
Better Together has already said the money, which represents nearly half of the £1.1m in its "war chest" for the referendum campaign, was taken in good faith and there are no plans to return it.
The No campaign group describes Mr Taylor as a respected figure internationally with a long history of philanthropy and whose personal investment has revived the Harris Tweed industry in Scotland.