Former pupil at school run by nuns 'held in torture cupboard for days'
Anne Kenny and Agne Reville are accused of assaulting pupils at the school in Renfrewshire.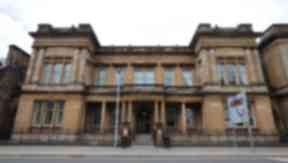 A former pupil at a school run by nuns claimed she was attacked by them after being sent there for stealing two bras from Woolworths.
Catherine Logan told a jury that she was kept in a cupboard when she was at the school 41 years ago.
The 57-year-old was giving evidence in the trial of Anne Kenny, 79, who faces four charges of assault and Agnes Reville, 77, who is accused of five charges of assault at Dalbeath Approved School in Bishopton, Renfrewshire.
She told Paisley Sheriff Court that she was taken back to the school three years ago, which was the first time she had gone back since leaving it.
The accusations involve a total of eight girls. In earlier evidence Mrs Logan identified Kenny as Mother Rosaria and Reville as Mother Martin, both nuns at the school at the time.
Mrs Logan was asked why she was sent to the approved school and replied : "I took two braziers from Woolworths." She told the jury: "They made me, I didn't want to go back to that place again," when she returned in recent years.
She said that a riding crop like the one she claims she was beaten with was still hanging on a wall in the school. She was asked by depute fiscal Douglas Hamilton: "Did you point out the cupboard in which you were held?"
Mrs Logan replied: "Yes." Mr Hamilton then showed her a photograph and asked her what it was and she replied: "That's the torture cupboard, but it's changed. It's different, I hadn't seen it for 41 years, but it hadn't changed much."
She told the court that she had been dragged into the cupboard on about a dozen occasions for alleged misbehaviour.
In court Mrs Logan claimed that it was Mother Rosaria who had beaten her and locked her in the cupboard.
Mrs Logan said that it was only on one occasion that she was beaten with a carpet and tied to piping in the cupboard and left for two days.
She was asked by Mr Hamilton: "Did anyone offer you food?" and she replied: "No, nothing."
The prosecutor then asked: "Did anyone come to see if you were alright?" and Mrs Logan said: "Nope." She was then asked if she had tried to escape and untie herself and replied: "No, I couldn't move."
The jury of eight woman and seven men were also told by Mrs Logan that she was hit with a riding crop after she ran away.
Logan was asked how the alleged assault with the riding crop had come about and she said she had been taken to Mother Rosaria's office and had spat on her and then was hit. Mrs Logan also claimed that she saw Mother Martin hit another girl Patsy Timothy after she found her smoking behind the nunnery.
Mr Hamilton asked: "What did she do to her?" Mrs Logan said: "Pulled her by the hair and struck her on the face." Patsy was terrified of Mother Martin."
Mrs Logan told the court that Patsy screamed and fell down when she was slapped and then got up and was slapped to the ground again.
Defence QC Ronnie Clancy accused Mrs Logan of being a liar and a fantasist and told the jury she had made a "career" out of shoplifting.
Mr Clancy revealed that she had 26 convictions for dishonesty between 1969 to 2009, including two convictions for lying to police.
He said the court would hear from other pupils at the approved school who described Mother Rosaria as a kind and gentle person who never lifted a finger to anyone.
Mrs Logan replied: "I would say they are liars".
The QC then told Mrs Logan: "You are either deliberately lying or you are a fantasist."
She replied: "Absolutely not".
Robert Anthony QC, representing Reville, asked why it had taken 40 years for Mrs Logan to come forward with her story.
She told him that she had gone to Springburn Police station 25 years ago to report the alleged abuse.
Mrs Logan added: "I wrote to Cardinal Winning and Cardinal O'Brien and never got a reply from either of them."
Kenny, of Manchester, and Reville, of Newcastle deny the charges.
The trial before Sheriff Susan Sinclair continues.