Serious crime falls to lowest level in a decade
Report shows 380,000 serious crimes were recorded in Scotland during 2009/10.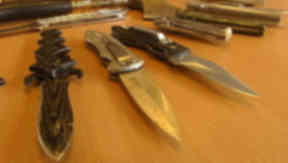 Serious crime in Scotland has fallen to its lowest point in a decade, official figures have revealed.
And police are solving more reported cases than at any time over the past ten years, according to the latest statistical crime bulletin.
The report shows that there were 380,000 serious crimes recorded in Scotland in 2009/10, including murder, rape and serious assault. The figure is a fifth lower than in 2000/01, the first full year of devolution.
Figures also show that police solved nearly half of all serious recorded crime in 2009/10, compared to 44% in 2000/01.
The decline in serious crime coincides with the longest average prison sentences in a decade, with criminals spending on average 12% longer in jail for serious crimes than the start of devolution.
Prison sentences for handling an offensive weapon have also increased, up for the fifth-successive year.
The average sentence handed down by the courts for such crimes is now nine months - more than double the level they were in 2005/06.
Justice Secretary Kenny MacAskill said: "This report is further evidence of the strong progress being made in Scotland's justice system through a record number of police officers on the streets, with recorded crime down to its lowest level in 32 years, homicide rates down to their lowest in 31 years, knife crime down to its lowest level in ten years, and criminals now being punished through the longest prison sentences in a decade.
"Sentencing is rightly a matter for individual sheriffs and judges based on the evidence before them, but they have my full support in handing out these longer sentences. The courts are sending out a clear message that if you commit serious crimes, you will be punished and you will face a lengthy prison sentence.
"The statistics we have seen this year show Scotland is becoming safer - crime is down, fear of crime is down, the number of people carrying out crime is down, and those that do break the law are being punished swiftly by Scotland's justice system."
The statistics show that average prison sentence lengths for all crimes and offences increased to 281 days in 2009/10, up from 262 days in 2008/09.
The average sentence length for all crimes and offences in 2006/07 was 229 days.
New legislation set to be enforced in 2011 urges judges to replace short sentences of under three months with community service.
While the Scottish Government maintains that judges will still have three-month sentences at their disposal if they believe the punishment fits the crime, Labour claims the new guidelines amount to a "get out of jail free card" for some serious offenders.
They point to figures from 2010 which show that almost 6,000 criminals convicted of crimes such as knife crime, crimes of indecency and serious assault and attempted murder were given three-month sentences.
Richard Baker, Labour's shadow justice secretary, said: "The current community sentencing regime is on its knees and yet the justice minister and Alex Salmond want to push even more offenders through it even when they know that 40% of offenders won't even do an hour of their order.
"No wonder Scotland is sick to the back teeth of the SNP's soft-touch approach to justice and want change. Scots deserve better than a party that thinks a get out of jail free card for criminals is appropriate."