Schoolboy becomes Scotland's youngest league footballer at 14
Jordan Allan came on as a substitute for Airdrie United at the age of 14 years and 189 days.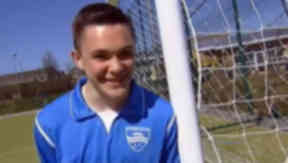 A 14-year-old schoolboy has earned himself a place in the record books by becoming the youngest player in Scottish league football.
Striker Jordan Allan broke a record that had stood for nearly 70 years when he came on as a substitute for Airdrie United against Livingston on Friday night.
The Blantyre schoolboy, who has had a trial with English Premier League team Fulham, told STV News: "I was in the bath when I got the phone call from the gaffer. He just said [to be there at] half one, shirt and tie and no later.
"I just asked him if I'm in the squad, he said you'll need to wait and see.
"It was just a pure buzz, couldn't sleep the night before. I was so excited."
Jamie McCue, Jordan's PE teacher at Calderside Academy, said he was delighted for his young protege.
He said: "He's worked really hard and he's really earned it. All the staff at the school are really, really pleased for him and excited for him, because he's going to have a lot of opportunities coming his way."
Jordan took the field at New Broomfield in the 83rd minute, 189 days after his 14th birthday.
The record was previously held by the late Celtic goalkeeper Ronnie Simpson, who made his debut for Queen's Park in 1945 aged 14 years 305 days.