Families pay tribute to three soldiers killed on patrol in Afghanistan
One of the men, from Ayrshire, was due to become a father for the first time.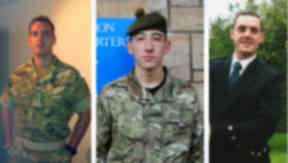 One of the three Scots-based soldiers killed by a roadside bomb in Afghanistan was due to become a father, the Ministry of Defence has confirmed.
Lyndsey Savage, who is expecting her first child with Corporal William Savage, said she was "completely devastated but "extremely proud" of the 30-year-old from Ardrossan, Ayrshire, who died in the attack in Helmand province on Tuesday.
The other victims were Fusilier Sam Flint, 21, from Blackpool, and US-born Private Robert Hetherington, who were serving with The Royal Highland Fusiliers, 2nd Battalion The Royal Regiment Of Scotland (2 Scots). Private Hetherington had been mobilised from 51st Highland, 7th Battalion The Royal Regiment Of Scotland (7 Scots), in November.
Six other soldiers were injured in the blast when their heavily-armoured Mastiff vehicle struck an "improvised explosive device".
On Thursday, Major Tim Petransky spoke on behalf of 2 Scots outside Glencorse Barracks in Midlothian.
He said: "The whole battalion's thoughts, whether deployed in Afghanistan or back here in the UK, is with the families of these brave men and also those who were injured in this incident.
"The mood in the 2 Scots is as you would expect - sombre but determined. The loss of three of our brother in arms in any circumstances would be tragic but to lose three in one go is a hammer blow.
"I know that the battalion, its families and the regiment as a whole will with great stoicism, pride and professionalism carry on in a manner that would have made our three men proud. Those in Afghanistan will be concentrating on the job at hand, putting back on their body armour, picking up their rifles and getting on the ground to continue with this diffident but vital mission.
"This is a family regiment and those of us in the rear operations group will now be gathering around the family to support them.
"Our thoughts are also very much with our sister battalion, the 7 Scots Territorial Army to whom Pte Hetherington belongs. They too will be grieving.
"Pte Hetherington embodied the ethos of the TA, who stand shoulder to shoulder with us in this fight. To us, Pte Hetherington was very much part of 2 Scots and we were extremely proud to have him serve with us."
Corporal William Savage
Corporal Savage's wife said her husband "loved being a soldier", adding: "I am completely devastated by this news but extremely proud of 'Sav' and everything that he has achieved.
"I have lost the love of my life and the father of our son. I know his life will live on through so many amazing memories that we shared together. He will be deeply missed amongst family, friends and the regiment."
Cpl Savage enlisted in the Army in April 2003 and joined the 1st Battalion, The Royal Highland Fusiliers (Princess Margaret's own Glasgow and Ayrshire Regiment) in November that year.
He was described as a keen sportsman who enjoyed a variety of outdoor activities, including skiing and kayaking.
Lieutenant Colonel Robin Lindsay, Commanding Officer, The Royal Highland Fusiliers, 2nd Battalion The Royal Regiment of Scotland, said the loss of Cpl Savage would be a "hammer blow" to the battalion and the regimental family.
He said: "We will remember Corporal William Savage as an exceptional soldier, a dedicated leader and a gentleman in the truest sense of the word. He was a classic example of a Scottish infantryman; robust, committed and blessed with a fine line in banter.
"Corporal Savage's composed and professional approach had a calming influence on his Platoon and he was seemingly unaffected by the dangers he faced daily in Afghanistan."
He described Cpl Savage as "unflappable", adding: "The loss of Corporal Savage has been a hammer blow to the Battalion and the Regimental family."
Fusilier Sam Flint
Fusilier Flint, 21, joined the army in November 2011 and was deployed to Afghanistan in March.
He was a motorsports enthusiast and avid Manchester City fan, and was described as the "life and soul of the party" in a statement from his family.
The statement by the Flint-Broughton family said: "The whole family is completely devastated. Everyone should know that Sam loved his job and made his whole family and everyone that knew him very proud.
"Sam was always the life and soul of the party, a real ladies' man, witty funny, the real cheeky chappy. He was a loving son, the protective brother, courageous nephew, the caring uncle, the loyal grandson that anyone would wish to have."
Lt Col Lindsay said Fusilier Flint was "brimming with skill and ability".
He said: "Perhaps more importantly, he was quick to form deep friendships with his fellow Jocks and he was always one to help others around him and to give of himself for the benefit of his Section and Platoon. He approached everything he did with total motivation and it was clear that his ability matched his ambition. A bright future lay ahead for Fusilier Flint and it is cruel to see that future taken away from him."
Captain Euan Eltringham, who took Fusilier Flint through his basic training at Infantry Training Centre Catterick, described him as a "wonderful phenomenon of a genuine, honest young man".
Warrant Officer Class 2 Stevie Main, Company Sergeant Major, B Company, The Royal Highland Fusiliers, 2nd Battalion The Royal Regiment of Scotland, added: "Fusilier Flint was a Jock that you could always trust.
"He was very keen to learn, hard-working and always offered to help others. He had a can-do attitude and he would never let you down. Sam Flint epitomised everything that being a Fusilier in the Royal Regiment of Scotland is all about."
Pte Robert Hetherington
Pte Hetherington, 25, was born in the US but raised and educated in Scotland and played for the national lacrosse team.
He enlisted in the Territorial Army in October 2006 and was mobilised to join The Royal Highland Fusiliers, 2nd Battalion The Royal Regiment of Scotland, for Operation Herrick 18 on November 30.
Lt Col Lindsay described him as epitomising "everything that is excellent about the reserve forces".
He said: "Private Bobby Hetherington was a thoughtful and humorous soldier who was always quick to find the fun in Army life and to keep the chain of command on our toes with his sharp wit and insightful mind. He was gregarious and open and this made him a much-liked and respected member of his platoon and the battalion."
Pte Hetherington had plans to attend the Royal Military Academy and become an officer.
His friend Lance Corporal Russ MacLean, also in the 7 Scots, described him as his "best friend".
He said: "I first met Bobby on a TA exercise in the south of France in the summer of 2009. I instantly bonded with him due to his infectious and riotous laugh which made even my most feeble jokes seem to be stadium stand-up comedy. Following the exercise we became firm friends; out with the TA, enjoying many legendary nights out as our 'bromance' flourished.
"Bobby was my best friend. He was the life and soul of the party and one of the kindest and friendliest people I have ever met. He was always at the end of the phone or across the table at a pub if you had problems you needed to talk about.
"My heart truly goes out to his family who will be as distraught as I am. He had a loving and caring family, along with his girlfriend Maeve and my thoughts are completely with them. Love you mate."