Bagpipes are linked to increased risk of blindness
Blowing into brass, woodwind or piped instruments can put pressure on the eyeballs, scientists in Glasgow have warned.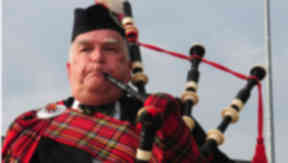 Playing the bagpipes could put you at higher risk of blindness, Scottish scientists say.
Musicians who have to blow hard to play their instruments – such as brass, woodwind or pipes – have a higher risk of developing glaucoma.
This is a condition where the optic nerve is damaged, potentially leading to loss of sight.
A study at Glasgow Caledonian University found that blowing into such instruments can put the eyeballs under significant stress.
The scientists said this could lead to severe damage to the optic nerve.
Brass musicians showed the highest increases in eye pressure, the researchers found.
They said people who played instruments for several hours a day over a prolonged period were most at risk.
But Dr Gunnar Schmidtmann, who led the study, added: "It doesn't matter if you are a hobby musician or a professional player. You should go to your optometrist frequently."