Hurricane-force winds batter Scotland
Heavy winds and rain, up to 90mph, have forced the closure of schools in parts of the country.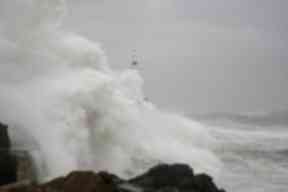 Hurricane-force gusts of up to 90mph are battering Scotland forcing the closure of schools and causing problems for motorists.
Winds of around 75mph have already hit the Western Isles on Thursday but these were expected to increase to as much as 90mph in the evening. Schools and many businesses closed at lunchtime to prepare for the high winds and heavy rains.
Western Isles residents have been warned to stay indoors on Thursday evening while Strathclyde Police are also advising motorists to only go out if their journey is "essential".
The force also reported more than 50 incidents relating to the weather including HGV's and vans blowing over, trees falling down and unsafe buildings losing debris. A section of Great Western Road in Glasgow has meanwhile been closed off due to debris blowing onto the road near the junction with Byres Road.
The Northern Isles and Hebrides were also facing winds of up to 90mph with the central belt, including Glasgow and Edinburgh area, experiencing winds of 60-70mph on Thursday evening. These are expected to ease later but return on Friday afternoon along with heavy rain.
Motorists faced treacherous conditions on Thursday morning when blizzards and low temperatures left roads covered in ice.
One of the main routes through the north east, the A90 Dundee to Aberdeen road, was forced to close northbound between the A928 turnoff near Dundee and the Inverarity turnoff at 9.30am on Thursday.
The M77 at Maidenhill and the Erskine Bridge was closed to high-sided vehicles.
Officials from the Scottish Environmental Protection Agency (Sepa) has flood watches on several rivers across Scotland. These include the rivers Isla and Ericht in Tayside and Perthshire, as well as rivers in Fife, Clackmananshire and Stirling after the severe weather returned on Wednesday night.
Met Office
The Met Office has issued severe weather warnings of heavy snow across most of the country, with falls of up to ten centimetres forecast on higher ground.
Traffic Scotland are warning road users to use caution due to high winds affecting driving conditions on the A87 Skye Bridge.
The Scottish Government has activated its multi-agency response to the weather and more than 115 winter vehicles are ready to deal with the conditions.
Transport Minister Keith Brown said: "We are urging drivers to be aware of the forecast snowy conditions across parts of Scotland, and to heed police travel advice, planning their journeys in advance.
"We are also expecting high winds, therefore we ask drivers to take extra caution when driving through exposed areas.
"Our multi-agency response team has been activated ahead of the forecast snow to manage circumstances as they unfold and ensure a co-ordinated approach to dealing with any issues as they arise.
STV weatherman Sean Batty warned that the high winds were likely to leave many properties damaged.
He said: "The severe gales are likely to result in structural damage to properties as the weather has been so settled recently. There is also flooding as high waves crash on to streets in some western coastal areas."
He added: "Scattered wintry showers will affect many western areas on Thursday, however the main feature of the weather will be a deepening area of low pressure which will swing between Scotland and Iceland on Thursday night and into Friday bringing very strong winds.
"Gusts could well reach 90mph over the Northern Isles, Northwest Highlands and the Outer Hebrides elsewhere land gales can be expected."
A police spokesperson said: "Strathclyde Police is advising all motorists not to travel tonight unless their trip is essential.
"With severe winds and heavy rain battering the force area, more than 50 incidents have already been reported to area control rooms across the region including HGV's and vans blowing over, trees falling down and unsafe buildings losing debris.
"The M77 at Maidenhill to the A726 at Bellcraigs Interchange has been closed to high sided vehicles for the time being, as is the Erskine Bridge. The road between Peat Road roundabout and Crookston Road has also been closed due to a dangerous building on Barrhead Road. Numerous other roads and areas have also already been affected."
The severe weather comes after an extended period of heavy snow and ice across Scotland and much of the UK at the end of last year.
The conditions resulted in widespread problems as schools were closed and major roads were gridlocked. Parts of the M8, M74 and M80 were shut and drivers forced to spend the night in their vehicles in sub-zero temperatures.
Scotland's then transport minister Stewart Stevenson was forced to resign on December 12 following fierce criticism of his handling of the travel chaos.