Sir Chris Hoy gives backing to cyclists campaigning for safer roads
Pedal on Parliament will see thousands of cyclists converge on the Scottish Parliament.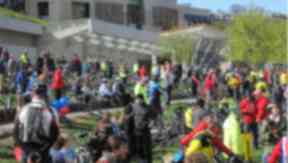 Sir Chris Hoy has lent his support to a group of cyclists who are lobbying for better protection on the roads.
Pedal on Parliament saw thousands of bike-users make their way from the Meadows to the Scottish Parliament on Sunday.
At last year's first event, 3000 cyclists turned out for the protest for funding for cycling, slower speed limits, improved road traffic laws and for cycling to be designed into Scotland's roads.
Sir Chris was unable to attend the event, but sent his support to the cause.
He said: "As someone who has enjoyed competitive sport for many years I obviously have an interest in supporting and nurturing the cycling stars of the future.
"However, cycling isn't just about winning medals, it's an activity for everyone, be they cycling for sport, transport or just for fun. Thus I believe it is incredibly important that Scotland invests in safe cycling for all.
"Unfortunately I can't attend Pedal on Parliament 2, however, I thoroughly support the aims and objectives of Pedal on Parliament and I urge as many cyclists and non-cyclists alike to attend."
Pedal on Parliament saw former world champion cyclist Graeme Obree and the families of Andrew McNicoll and Audrey Fyfe join the event.
Audrey Fyfe was killed when she was knocked off her bike in Portobello by driver Gary McCourt. Andrew McNicoll died when he collided with a parked car in Edinburgh in January 2012.
MSPs Jim Eadie, Alison Johnstone, Sarah Boyack, and Kezia Dugdale and MP Ian Murray will also attend.
Pedal on Parliament starts at the Meadows at 3pm on Sunday.