STV to broadcast Road to Referendum series with Iain Macwhirter
Three-part series presented by Iain Macwhirter looks at history and development of independence question.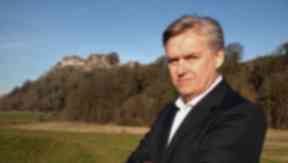 STV broadcasted a three-part series examining the history and development of the independence question in Scotland.
Road to Referendum includes exclusive interviews with the Prime Minister and First Minister.
David Cameron and Alex Salmond are among a wide range of politicians, cultural commentators and well-known Scottish faces taking part in the programme which is being broadcast on STV from Tuesday, June 4.
You can watch a live stream of this programme on this page. The player box will appear on this page just before 8pm and can be started by pressing the "play triangle". The stream is available to viewers anywhere in the UK.
The three hour-long programmes, presented by Iain Macwhirter, are being broadcast on June 4, 11 and 18 at 8pm on STV.
STV's programmes take a historical look at the past seven decades of Scotland's political and cultural landscape, explore the development of Scotland's changing attitudes to culture and politics across the period using archive material from STV, The Herald, and other sources to bring the history of Scotland's independence debate to life.
The first programme analyses the period 1945 to 1974, starting immediately after the war and ending with Labour's win in the general election of October 1974 and the election of Mrs Thatcher as leader of the Conservative Party. After the devolution referendum in 1979, programme two is dominated by the "Thatcher Years" up to 1991. The final programme starts with the Conservative win at the 1992 general election and examines the recent political landscape in Scotland in the run up to the referendum in 2014.
Bobby Hain, director of channels at STV, said: "The three Road to Referendum programmes provide an accessible and engaging insight into the political history of Scotland. This new series is part of STV's commitment to providing a platform for debate on Scotland's constitutional future. As we look towards the independence referendum in 2014 we believe STV is well placed to play its part at the heart of the debate."
"The Scottish people are facing their most significant political decision for three centuries and we are confident Road to Referendum will make a significant contribution to the independence debate," said Magnus Llewellin, editor of The Herald.
A book, also called Road to Referendum, has been written by Iain Macwhirter to accompany the series.