Boxing champion kidnapped business associate over unpaid debt
Fundo Mhura kept Ricardo Cerdan tied up for two days until he managed to escape.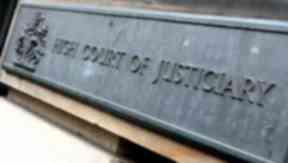 A boxing champion subjected a business associate to two days of terror over a debt.
Former Olympic hopeful Fundo Mhura, 29, threatened his handcuffed victim with a samurai sword and a dirty hypodermic syringe.
Ricardo Cerdan was so scared he asked for the last rites and offered to hang himself using ropes in a room used as a gym in Mhura's West Lothian home.
On Tuesday, the High Court in Edinburgh heard Spaniard Mr Cerdan finally managed to free himself from gaffer tape binding his legs, using the sword which Mhura had left on the floor.
He then jumped headlong through a living room window into the snowy garden, still handcuffed.
Mr Cerdan, who cut his head in the fall, pleaded for help from a postman and two council workers gritting the street.
"Call the police, I've been kidnapped," he shouted through tape which still partly gagged his mouth.
Mhura from Kirknewton, admitted abduction, assault and robbery on Tuesday and has been remanded in custody until he is sentenced in July.
Advocate depute Andrew Brown QC, prosecuting, said the relationship between Mr Cerdan and Mhura was not entirely clear but they had both been involved as business associates with a Londoner named Saunders.
Mr Saunders thought Mr Cerdan had ripped him off and asked Mhura to help recover the money, running into tens of thousands of pounds.
Mr Brown said Mr Cerdan denied this debt but accepted he owed Mhura £3000 from a business venture organising "party nights." He said he had taken £2000 to Mhura's house as part payment.
The court heard how Mr Cerdan travelled from London to Edinburgh by train and was taken to Kirknewton by two friends of Mhura on the evening of Sunday January 20.
In the house in Kaimes Crescent they began talking about Mr Saunders' allegedly missing money.
Mr Brown said: "Without warning Mhura approached him and forced him face down on the bed, put his knee in his back and handcuffed his wrists behind his back. He thereafter shackled Mr Cerdan's ankles with two sets of handcuffs."
Mhura then used Mr Cerdan's phone to send a text: "I would phone you but I'm a little bit tied up right now."
Mr Cerdan later told police he was not sure of the order of events over the next two days because of the trauma he had suffered.
But, he said, Mhura took all the cash from his jacket pocket. He showed him a bottle of liquid and threatened to blind him with acid.
Mhura said Mr Saunders would send "Jamaicans" and Mr Cerdan would be taken away in a bag. Sometimes Mr Cerdan's legs were bound with gaffer tape and he was gagged while Mhura made phone calls.
At night he was tied to a 50 kilo kettle bell weight and had to survive on a single banana and a little water. Mhura would not let him use the bathroom and gave Mr Cerdan a bottle instead.
Mr Brown said: "Throughout the period of his detention Mr Cerdan was in fear of his life. At one point he indicated to Mhura that if he was going to kill him he would do it himself by using ropes hanging from the ceiling in the room Mhura used as a gym."
Police discovered a text message from Mhura to Mr Saunders saying Mr Cerdan had asked for "last rites" and wanted to make a last call to his parents.
On the morning of Tuesday January 22 Mhura left the house and Mr Cerdan was able to escape.
He had red marks left by the handcuffs, a minor head injury from his fall and three small cuts to his wrist, probably caused by the samurai sword as he cut himself free.
Defence QC Jim Keegan said Mhura insisted he had no intention of actually harming Mr Cerdan.