Jimmy Johnstone Faberge egg goes under the hammer
A jewel-encrusted egg won by a Celtic fan in a prize draw is expected to fetch over £20,000.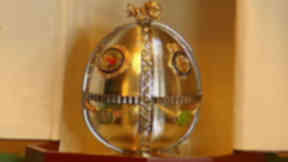 **A rare Faberge egg created as a tribute to Celtic legend Jimmy Johnstone is to be auctioned to help raise funds for a new football school in Lanarkshire. **
A lifelong fan of the Glasgow club is selling his prized possession and will donate some of the proceeds to the footballer's son James, who is hoping to fulfil his father's dream of training youngsters in his home community.
The jewel encrusted egg was originally created by Faberge to raise funds for research in motor neurone disease which claimed Johnstone's life. Now the egg is up for sale again to raise money for another cause close to the player's heart.
Its current owner, David McGinty, won the egg in a prize draw. Since then, it has been on display at Celtic Park.
Mr McGinty said: "It's not the sort of thing you put on top of your telly. Better here for people to see because that's what Jimmy wanted - for normal people to appreciate it.
"The message that was sent down was that he wanted a normal Joe to have it, not one of these fat cats who could just throw money about at things."
Auctioneers expect the egg to fetch in excess of £20,000. Only 19 were created - one for every medal "Jinky" won. Some of the proceeds from its sale will go towards creating a new training school in the Lanarkshire community where the player lived.
His son James said: "To have it in Viewpark is a real big deal - that was his place. I see these two ash parks that belong to North Lanarkshire council and basically I've put in for the lease of these to change it into a facility to call that the Jimmy Johnstone soccer school where every kid would be welcome. "
Also included in the sale is a Faberge egg commemorating George Best's career with Manchester United.
Both eggs will go under the hammer in Glasgow on Tuesday February 15.