Scots urged to show support for their local library
Petition against library service cuts gets support from top authors.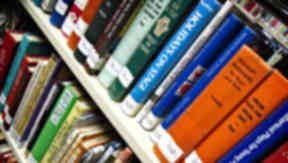 Scots are being urged to stand up for their local libraries in the face of budget cuts and reduced opening hours.
The Chartered Institute of Library and Information Professionals in Scotland (CILIPS) has launched a new website which aims to harness the support of the Scottish public to demonstrate to politicians the value of libraries to Scottish communities.
The website – called Love Scottish Libraries – also features a petition against cuts to library services. The petition has already gained the support of Scottish authors Theresa Breslin and Quintin Jardine.
According to CILIPS, there were nearly 30 million visits to Scotland's public libraries in the past 12 months, and millions more to libraries in universities, schools, colleges, and hospitals.
President of CILIPS, Alan Reid, said: "The Love Scottish Libraries website has been developed to let people express their support for libraries and to recognise the need for professional and well-trained staff.
"Libraries have attracted increased media attention in recent months, highlighting the passion which many in Scotland share for their libraries, and the rising tide of concern about what the current public service financial cuts will mean.
"We encourage everyone to lend their support for libraries of all kinds by visiting the website and making their voices heard for libraries."
Closures or relocations have been proposed to libraries in Renfrewshire, West Dunbartonshire, Argyll and Bute, Aberdeenshire and North Ayrshire, while Argyll and Bute will also stop their mobile library service.
Councils where cuts to school library budgets are being considered include East Ayrshire, Edinburgh, Highland and South Lanarkshire. Glasgow and Fife have already decided to make cutbacks.