Schoolgirl posed as boy to dupe girl into sexual relationship
Justine McNally had her three-year jail term cut for the sex offences.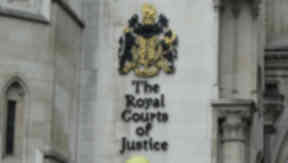 A schoolgirl posed as a boy called Scott for more than three years so she could dupe another teenage girl into a sexual relationship.
Justine McNally, 18, tricked her 16-year-old victim into believing she was a boy as they chatted online and carried on the deception after they met.
McNally, of South Lanarkshire, tricked the London schoolgirl into sexual encounters using a sex toy, promising her they would get married and have children.
The victim believed she had lost her virginity to McNally, of Lilac Wynd, Cambuslang, who was previously jailed for three years at Wood Green Crown Court in March after she admitted six sexual assault counts.
On Tuesday, three Court of Appeal judges ruled that her sentence was "simply far too long" and replaced it with a nine-month suspended sentence in what they called an "extremely difficult case".
Her counsel, Tom Wainwright, argued the judge had not taken enough account of McNally's own youth and vulnerability or given her sufficient credit for her guilty pleas.
Psychiatric reports had spoken of her self-harming and having suicidal thoughts and the "abuse of trust" involved in her crimes had been over-emphasised, said the barrister, who added that she had been incarcerated in Holloway Prison, hundreds of miles from her family, for 82 days.
Sentencing her in March, Judge James Patrick, had described McNally as a "selfish and callous" liar whose victim was aged just 12 when she began deceiving her. They had talked about having sex during online chats and the relationship turned physical when McNally visited the younger girl at her north London home in 2011.
The court heard the victim was "literally sickened" by the revelations and had been left with a sense of violation that affected her relationships with friends and boyfriends.
Lord Justice Leveson, sitting with Mr Justice Kenneth Parker and Mr Justice Stewart, said McNally's victim had suffered "substantial harm" but ruled her punishment was too harsh, imposing a two-year supervision order with the suspended sentence.
The appeal judge added: "Our view, both reached individually and collectively, is that the sentence was simply far too long." The court will give its reasons for allowing the sentence challenge, as well as for dismissing McNally's conviction appeal, at a later date.
Thanking McNally's parents for attending court, Lord Justice Leveson concluded: "I'm grateful to Mr and Mrs McNally for the support they have shown their daughter. Their concern is of real significance and was so when we considered on what basis to dispose of this extremely difficult case."