Child abuse inquiry calls for Scottish survivors to come forward
Investigation into residential child abuse wants to hear from victims now living in Scotland.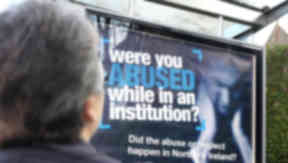 An inquiry into historical child abuse at institutions in Northern Ireland is appealing for survivors living in Scotland to come forward.
The Historical Institutional Abuse Inquiry was set up earlier this year to investigate abuse at residential institutions over a 73-year period up to 1995.
So far 43 individuals living in Scotland and England have contacted the inquiry regarding their experiences, while 281 potential witnesses still living in Northern Ireland have contacted investigators.
The inquiry is focussing on 35 institutions, including state-run children's homes, Catholic Church-run facilities, borstals or training schools and homes run by Protestant churches or voluntary organisations.
Inquiry chairman, Sir Anthony Hart, said: "We recognise that, for many potential witnesses, reliving their experiences will be very painful and traumatic.
"Indeed, some will not have told their closest relatives or friends about the abuse they suffered. If they now live outside Northern Ireland, the thought of contacting the Inquiry may seem especially daunting.
"But we're determined to make this investigation as thorough as possible, and we believe there may well be individuals now living in Scotland who have information which could greatly assist the Inquiry. We will provide as much support as we can for them."
The inquiry has contacted 60 organisations throughout Scotland, including social service departments, churches and charities which work with abuse survivors, to assist in tracing child abuse survivors.
Survivors of childhood abuse in Northern Ireland institutions and any other potential witnesses should visit the [inquiry's website] (http://www.hiainquiry.org) or call 0800 068 4935.