Domestic violence incidents reach highest level for five years
The Old Firm clubs claim the figures show they have been unfairly stigmatised in previous years.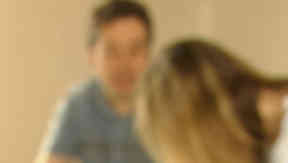 Reports of domestic violence have risen to the highest level in five years, according to figures obtained by STV News.
The number of incidents recorded across Scotland in 2012/13 was 54,430, a rise of 3.85% on the previous year and 4% higher than the average for the previous five years.
The Scottish Government said the increase was the result of victims being more willing to come forward.
But the figures were seized on by the Old Firm football clubs as proof that they had been unfairly blamed for the problem.
In the former Strathclyde police region, domestic violence incidents increased by 11.4% in the last year, despite the absence of any matches between Celtic and Rangers last season following the Ibrox side's demotion to Division Three.
Earlier this year Police Scotland chief Stephen House said: "We aren't seeing those spikes that we had after Old Firm games and there aren't the same levels.
"We had one year when there were seven games. We'll take the holiday while we can."
Lily Greenan of Scottish Women's Aid said: "It's only been a year [since the last Old Firm derby] and it takes a long time to shift this kind of issue. I wouldn't have expected to see a dramatic drop, but I am disappointed that the figures are actually up on last year."
Sports minister Shona Robison MSP said: "We know there are spikes in and around football matches. We know that there are issues with alcohol involved as well. But there's no excuse for domestic abuse at all.
"Part of the reason for the rise, we believe, is that women are coming forward to report domestic abuse because they're being encouraged to do so."
Overall the statistics show domestic violence on the rise across Scotland. The only exceptions were in Lothian and Borders, where figures were only available for the first 10 months of the year, and Tayside, where the method of counting was changed two years ago, resulting in a fall of around a third in the number of recorded incidents.