Charity urges MSPs to ban snares
MSPs to debate Bill on Wednesday that could outlaw use of snares completely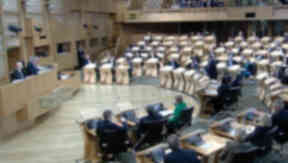 An animal welfare charity has urged MSPs to back a complete ban on "outdated and cruel" snares at Holyrood this week.
The League Against Cruel Sports has given its backing to an amendment to the Wildlife and Natural Environment Bill tabled by Labour MSP Irene Oldfather calling for a complete ban on the use of snares.
The Bill will be be debated at stage 3 on Wednesday.
Snares are thin wire nooses used mainly on sporting estates to protect game birds being reared for shooting from predators.
The league calls the snares "completely indiscriminate" as they also risk injuring or killing protected species and domestic pets.
Those in favour of their use argue that snaring is essential for biodiversity, agriculture and the economic benefits of shooting, but the league said there is "very little robust data" to back this up.
Scottish spokeswoman Louise Robertson said: "Banning these horribly cruel traps is simply common sense and will reflect the overwhelming will of the public who are in favour of ridding Scotland's countryside of snares.
"We are urging MSPs to support the amendment to the Bill to finally make snaring in Scotland illegal."