Queen meets disabled veterans on final day of visit to Scotland
Her Majesty visited the Thistle Foundation in Edinburgh to mark their 70th anniversary.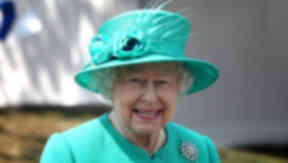 The Queen was greeted by crowds of well-wishers as she rounded off a week of engagements in Scotland with a visit to a charity which supports disabled people.
Her visit to the Thistle Foundation's base in the Craigmillar area of Edinburgh marked the start of the charity's 70th anniversary year.
It was established in 1944 to provide disabled veterans with medical support that would allow them to live with their families rather than in a hospital. Over the years, the organisation's work has evolved to see it become a key provider of support services for disabled people and those with long-term health conditions across Scotland.
On Friday, The Queen was greeted at the charity's Wighton House facility by two of the original residents of Thistle's Craigmillar settlement, 88-year-old Win Scullard and Doreen Martin, 87.
Earlier, the Queen and her youngest son, Prince Edward, attended a service in Robin Chapel, which was built in 1950 at the heart of the Thistle housing complex in south-east Edinburgh.
The royal guests were greeted by crowds of well-wishers, from pre-school children to pensioners, many of whom waved small flags as they waited in the sunshine.
Thistle's chief executive, Diana Noel-Paton, said: "It's been really exciting. We've had connections with the royal family through all of our history but it's a long time since the Queen was here - she was last here 15 years ago. You can see and hear from everybody around that it's been really exciting for us.
"We're in our 70th year and the Queen's just had big (Jubilee) celebrations recently too, so it feels like a good time to have her visit us.
"We're going to have a whole year of celebrations. The Queen coming to visit us and our street party here was the beginning of those celebrations.
"We start this anniversary year with renewed commitment to our goal - to ensure that everyone in Scotland can live the life they want regardless of their disability or long-term health condition."
The charity's original scheme to provide housing for disabled veterans was opened by the Queen Mother, who compared the foundation's new settlement and its work to that of "pioneers".
It now works with more than 300 people a year who have long-term health conditions and helps more than 100 disabled people to live in their own homes.
Ms Scullard was one of the first arrivals in 1951 to the estate, where she lived with her husband Peter, who had served with the Royal Corps of Signals during the Second World War.
She said: "It was a wonderful place and the camaraderie was absolutely gorgeous. We were all friends. You knew your neighbours and they would do anything for each other.
"It was a good day out. Prince Edward was very friendly. He spent a lot of time with us, which was nice."
During the trip to the charity, the Queen and Earl of Wessex met members of the foundation and viewed an archive exhibition, before meeting volunteers and signing a visitors' book.
Following the earlier church service, the Queen also met members of the Tudsbery family whose relatives, Sir Francis and Lady Tudsbery, built the chapel in memory of their only son Robin. He was a lieutenant in the Royal Horse Guards and was killed in the final days of the war in Germany.
It was Sir Francis who also established the Thistle Foundation, believing strongly that disabled people can and should be part of their local community.