Scottish sight impaired climber tells of incredible US challenge
Steve Bate became the first person to tackle the route up California's El Capitan while registered blind.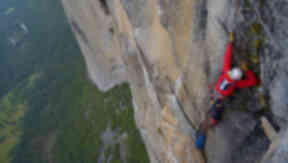 A partially sighted Scottish mountaineer has told of his incredible experience tackling one of the most dangerous climbing routes in America.
Steve Bate became the first ever sight impaired person to climb solo up the Zodiac trail on the face of the giant rock known as El Capitan in Yosemite National Park, California.
Speaking to STV the 35-year-old adventurer from Elgin revealed he slipped twice and found himself hanging upside down above the massive drop. He was forced to re-climb sections of the rock after one of his hooks fell off.
Steve was diagnosed with a degenerative illness called Retinitis Pigmentosa two years ago. It is causing irreparable damage to his eyes and he has been warned he will be totally blind within five years.
But he is resolved not to let the crushing news put an end to his adventurous lifestyle.
The giant granite rock is 3000ft high and more than a hundred million years old. It is considered one of the major world challenges for 'big wall' climbers.
Steve said: "It was pretty incredible; it was kind of amazing and terrifying all at the same time."
"You spend a lot of time extremely focussed on what you are doing you don't really take in what's behind you or below you."
Steve, originally from Auckland in New Zealand, raised more than £5000 for charity during his epic climb. He's now considering his next challenge and has a couple of ideas in mind – including climbing Mt Kilimanjaro or cycling from Canada to Mexico.
And he remains incredibly upbeat despite the worsening state of his eyesight.
"It's deteriorating but there's so many positives that have come out since I've been diagnosed ... it's hard to be negative, you just have to be positive and I've got an amazing wife and an incredible group of friends and an incredible support team around."
Your report: If you have information on this or any other story, please let us know. You can send information, pictures to web@stv.tv or call us on 0131 200 8085.
Feedback: We want your feedback on our site. If you've got questions, spotted an inaccuracy or just want to share some ideas about our news service, please email us on web@stv.tv.