More British soldiers take own lives 'than die in Afghanistan'
TV investigation finds 50 suicides against 40 deaths at the hands of the Taliban.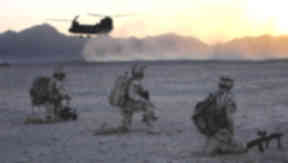 A greater number of UK service personnel and veterans took their own lives in 2012 than lost their lives in Afghanistan that year, according to an investigation.
While 44 British soldiers died in Afghanistan, 40 of them in action against the Taliban, 21 serving soldiers killed themselves and a further 29 veterans also took their own lives.
The figures were uncovered by a BBC Panorama investigation and will be the subject of a programme on Monday night.
The investigations series obtained details of soldier suicides through a freedom of information request to the Ministry of Defence while veteran suicides were calculated by lodging information requests with every coroner in the UK and researching local newspaper accounts of coroners' inquests.
The programme will also detail levels of post-traumatic stress disorder, which official statistics show have doubled in three years amongst those who completed tours of duty in Afghanistan.
General Sir Richard Dannatt, former head of the British Army, told the BBC that suicide rates should be monitored more closely.
He said: "It's pretty clear to me that it should be happening because once you have some statistics you can start to do something about it."
The MoD told the BBC it would not comment on individual cases but flagged up its £7.4m investment in mental health support services.
It added that suicide and post-traumatic stress disorder rates were lower among soldiers than civilians.