Duke and Duchess of Cambridge announce birth of royal baby boy
Clarence House says 'both doing well' after Kate delivered son at 4.24pm weighing 8lb 6oz.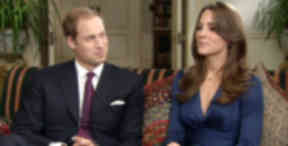 The Duchess of Cambridge has given birth to a baby boy.
The baby was born at 4.24pm at St Mary's Hospital in London and weighed 8lbs 6oz.
The Countess of Strathearn was said to be "delighted" after going into labour at 6am on Monday.
Kensington Palace released a statement on Monday evening saying: "Her Royal Highness The Duchess of Cambridge was safely delivered of a son at 4.24pm.
"The baby weighs 8lbs 6oz. The Duke of Cambridge was present for the birth.
"The Queen, The Duke of Edinburgh, The Prince of Wales, The Duchess of Cornwall, Prince Harry and members of both families have been informed and are delighted with the news.
"Her Royal Highness and her child are both doing well and will remain in hospital overnight.
"The names of the baby will be announced in due course."
Clarence House said the Duchess and her baby son, the Master of Strathearn, are "both doing well".
A Buckingham Palace spokesman said: "The Queen and Duke of Edinburgh are delighted at the news."
The Prince of Wales said: "Both my wife and I are overjoyed at the arrival of my first grandchild. It is an incredibly special moment for William and Catherine and we are so thrilled for them on the birth of their baby boy.
"Grandparenthood is a unique moment in anyone's life, as countless kind people have told me in recent months, so I am enormously proud and happy to be a grandfather for the first time and we are eagerly looking forward to seeing the baby in the near future."
Speaking outside 10 Downing Street, Prime Minister David Cameron said: "It is wonderful news from St Mary's, Paddington, and I am sure that right across the country, and indeed right across the Commonwealth, people will be celebrating and wishing the royal couple well.
"It is an important moment in the life of our nation but, I suppose, above all it is a wonderful moment for a warm and loving couple who have got a brand new baby boy.
"It has been a remarkable few years for our royal family — a royal wedding that captured people's hearts, that extraordinary and magnificent jubilee and now this royal birth — all from a family that has given this nation so much incredible service.
"They can know that a proud nation is celebrating with a very proud and happy couple tonight."
First Minister Alex Salmond congratulated the Duke and Duchess, saying: "Thrilled to hear of the birth of a baby boy to the Royal Couple.
"Many congratulations from all of Scotland to the proud parents."
Kate is to spend Monday night in hospital with the new Prince having arrived at the hospital's private Lindo Wing at 6am with the Duke of Cambridge, who is expected to remain by her bedside.
The Duchess had planned for a natural birth and a few hours after she arrived at the private unit in Paddington, Kensington Palace said things were "progressing as normal". Her labour lasted around 10 hours and the baby was said to have born "naturally".
The Queen had returned to Buckingham Palace on Monday afternoon, as planned, after being told of the impending birth while weekending at Windsor Castle.
Father William took annual leave to be with Kate last week, but is now on two weeks' paternity leave from his job as an RAF search and rescue helicopter pilot.
It is not known how long the Duchess will take off from her royal duties to care for the new baby, which is the Queen's third great-grandchild and is destined to be crowned monarch.