Duke and Duchess of Cambridge leave hospital with royal baby
Prince William and Kate yet to reveal name of their baby boy, the Prince of Cambridge.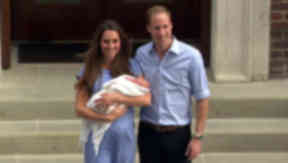 The Duke and Duchess of Cambridge proudly showed the world their baby son, a future king, before taking him home on Tuesday night.
William and Kate began their new lives as parents, cradling their baby prince and posing for pictures on the steps of the Lindo Wing of St Mary's Hospital in London.
The Duchess held her son first and the couple looked relaxed and smiled broadly as the world's media captured the moment.
William later held his son and walked forward with his wife to answer a few questions. He began by joking: "He's got a good pair of lungs on him, that's for sure. He's a big boy, he's quite heavy. We are still working on a name so we will have that as soon as we can."
He added: "It's the first time we have seen him really so we are having a proper chance to catch up."
The Duchess, who still had a bump under her summer dress, said: "It's very emotional, it's such a special time. I think any parent will know what this feeling feels like."
Her husband agreed: "It's very special."
He added: "I'll remind him of his tardiness when he's a bit older. I know how long you've all been standing here so hopefully the hospital and you guys can all go back to normal now and we can go and look after him."
The Duke and Duchess of Cambridge with their baby son
William said: "He's got her looks, thankfully," while Kate replied: "No, no, I'm not sure about that."
Joking about his apparent lack of hair the Duke said about his son: "He's got way more than me, thank God".
The couple's good humour continued during their brief questioning from the press with Kate revealing that her husband was a hands-on dad.
Asked about changing nappies, William said: "We've done that already." Kate added: "He's done his first nappy already".
William and Kate returned to the hospital after speaking with the press to place their son in a car seat before leaving for Kensington Palace.
A short time later, a crowd of well-wishers who were gathered at the entrance to the palace cheered as the Duke and Duchess arrived home with their baby.
William smiled from behind the wheel and Kate, who was sitting on the back seat, waved with her son next to her in a baby seat.
Earlier the parents of the Duchess, Michael and Carole Middleton, visited St Mary's Hospital to meet their grandson for the first time.
Prince Charles and wife Camilla arrived at the private hospital about an hour later. As the Prince left he was asked how the bay looked and replied: "Wait and see, you'll see in a minute."
It was a full hour-and-a-half before the baby, who will be known as the Master of Strathearn in Scotland, was unveiled however.
Prince William and his wife, Kate, both spent the night in the Lindo wing with their new child, who was born at 4.24pm on Monday weighing 8lb 6oz.
The Prince of Cambridge, or Master of Strathearn as he will be known in Scotland.
A statement issued by Kensington Palace on Tuesday evening read: "Her Royal Highness The Duchess of Cambridge will be discharged this evening from St Mary's Hospital, Paddington.
"The Duke and Duchess of Cambridge and their son will travel home to Kensington Palace.
"Their Royal Highnesses would like to reiterate their thanks to the hospital for the care and treatment they have all received."
Celebrations of the birth on Tuesday afternoon saw the King's Troop Royal Horse Artillery and the Honourable Artillery Company fire thunderous gun salutes in honour of the new addition to the Royal Family.
The King's Troop staged a 41 royal gun salute in Green Park watched by tourists, while the Honourable Artillery Company, the City of London's Army Reserve Regiment, fired a 62-gun salvo from Gun Wharf at the Tower of London.
A full peal on Westminster Abbey's ten bells, which lasts more then three hours, began at 2pm to coincide with the gun salutes.