Churches join forces in move to offer 'ethical' lending alternative
Kirk lends support to Church of England campaign against high-interest loan companies.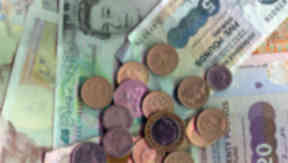 Church of Scotland leaders are backing a campaign to "compete" money lending firms out of existence, it has emerged.
The Kirk is to lend its support to a Church of England move to set up credit unions offering an alternative to companies such as Wonga, a spokeswoman said.
Under the initiative, local lenders could be invited to use church buildings and other community locations with the help of church members.
Rev Sally Foster-Fulton, convener of the Church of Scotland's Church and Society Council, told a newspaper that the decision had been taken to protect the "most vulnerable" people in society by offering "ethical" loans.
She told The Herald: "The ¬economics of our society are badly wrong. Payday lenders who levy -extortionate charges and rates are exploiting the most vulnerable.
"The Church of Scotland is on the side of the most vulnerable in society because we believe that there is a Gospel bias to the poor. We need alternatives for affordable credit for people on lower incomes, as well as a fundamental reform of our current economic system."
Ms Foster-Fulton added: "We're committed to working with the Church of England to see how a joint credit union project can best serve more people across both nations."
It comes after the Archbishop of Canterbury, the Most Rev Justin Welby, said the Church of England wants to "compete" Wonga out of existence as part of its plans to expand credit unions as an alternative to payday lenders.
However, the plans were dealt a blow after it emerged that the Church of England's own pension fund has links to Wonga.
The Financial Times said the fund, which claims to have a strong ethical investment policy that explicitly bans companies involved in payday lending, has invested in Accel Partners, the US venture capital firm that led Wonga's 2009 fundraising.
In a statement, Lambeth Palace said: "We are grateful to the Financial Times for pointing out this serious inconsistency of which we were unaware.
"We will be asking the Assets Committee of the Church Commissioners to investigate how this has occurred and to review the holding in this pooled investment vehicle."
It added: "We will also be requesting the Church Commissions to investigate whether there are any other inconsistencies as normally all investment policies are reviewed by the Ethical Investment Advisory Group (EIAG)."
The Archbishop has been keen to clamp down on short-term loan firms, which are often characterised by high interest rates – sometimes up to 4000% - and swift approval times, by setting up a credit union for the clergy.
He was backed by Business Secretary Vince Cable, who said the Government was looking at better regulation of the industry as well as a bar on advertising high interest loans to people who can ill-afford to pay them back.
But the FT said the pension fund investment - despite being only a few million pounds, according to its source - threatened to undermine the Archbishop's pledges to take on the payday lenders.
Meanwhile, the lender said it has wrongly been tarnished in some quarters as an "unacceptable business" that preys on the vulnerable.
Wonga said it does not extend loans more than three times, it carries out "thorough" credit checks for every loan and it freezes interest rates to prevent costs from spiralling.
In a statement placed on the OpenWonga website, it said it welcomes competition and agreed with much of what was said by the Archbishop in the meeting, which was also attended by Errol Damelin, chief executive of Wonga.
But it continued: "His comment that he wants to 'compete Wonga out of existence' has been interpreted by some as meaning we are an unacceptable business. Some have taken it a step further, saying we make unaffordable loans to the most vulnerable in society. We respectfully disagree."