'It was a terrifying experience': Scots tell how they were caught up in Japan earthquake
Paul Beveridge thought he was going to be crushed by falling buildings as the 8.9 magnitude earthquake struck.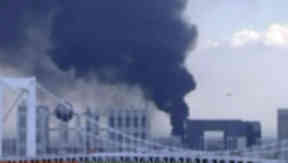 Hundreds of Scots are believed to have been caught up in the Japanese earthquake.
The quake measured 8.9 on the Richter Scale and set off a tsunami that hit the country's eastern coastline, sweeping boats, cars and buildings miles inland.
An emergency has also been declared at the nuclear power station closest to the epicentre. Officials have declared a state of emergency after the cooling system at the plant in Fukushima failed. There are reports that it is on fire.
A Scot who lives in the worst-hit part of Japan with his young family has managed to get in touch with his relatives in Fife to tell them they are safe.
Matthew Dunn used a series of posts on social networking site Facebook to let his friends and family know he was okay.
He wrote: "I have just been in a massive earthquake - it's still happening. The outside fire escape ripped off the wall when I was running down it."
Later he reassured his mother by writing: "Everything's cool. Missing wife now found."
That was his last message, but his mother Agnes has been told that her son is safe by his Japanese father-in-law.
Agnes told STV News: "It has been quite devastating and nerve wrecking just not being able to contact my son or hear anything off them.
"He cycled all the way from his home to the nursery to collect his child and he managed to get his daughter. His wife was on her way to work and he couldn't get a hold of her but eventually they did and they all met up. I don't know whether they are in a safe house of where they are at this time; all I know is that they are safe."
One Scot living in Tokyo told STV News that he thought he was going to be crushed by falling buildings as the quake started.
Paul Beveridge, 32, is originally from Glasgow but has been living in Japan for seven years.
The DJ said: "I've been here for seven years and there's been many earthquakes but there's never been one like this before. When the first big quake happened I honestly thought all the buildings around here were going to fall down. I just thought I need to get out of here and as far away from these buildings as I can otherwise I would be crushed.
"It was a terrifying experience. Things started falling off the shelves, I decided to get outside and that is when I realised everyone was getting evacuated. The skyscraper next to my house, a 20 storey building made of glass, was completely shaking.
"The roads were just chaotic because all the businesses had been evacuated and the cars were just stopped. Everyone was congregating in the middle of the road to be as far away from buildings as possible.
"The Japan phone people have switched it so all the public pay phones are free and there are lines around the block to use them because mobile phones are not working."
Paul added that it's hard to feel relieved about surviving the quake as aftershocks keep hitting the capital.
He said: "It's now six hours since the earthquake and ever since then there's still been tremors. I wasn't relieved at any point."
Masami Dederichs works as a tour guide for Japanese visitors to Scotland and is based in Edinburgh.
Most recently she was assisting and translating for Japanese comedian Dandy Sakano as he filmed a TV show in Dundee.
She returned to Japan with the TV crew after filming finished last month.
Speaking from her home in Okayama Prefecture, in the south west Chugoku region of Japan, she told STV News she is anxiously waiting to hear from her colleagues in Tokyo.
She added: "I am still in Japan but luckily the area I stay, Okayama Prefecture, is far enough from the affected areas and I did not feel anything.
"But I do not know what happened to my colleagues in Tokyo.
"My brother lives in Tokyo and I just found out that he is safe and walking home from his office which is 14 miles away. It will take him over five hours, I hope he will get home safely."
Will Barber, 26, from Dundee, had only arrived in the country on Monday after spending a year working and travelling in Australia.
As he browsed the Yokohoma Archives of History the quake struck during a day trip to the city, the earth quake struck.
The former Stirling University student said: "I got out into the hallway and held on to a rail and could see out the window to the street.
"All the traffic stopped and everyone was pointing but I couldn't see what at. I found out when I went outside - two tall office buildings that were swaying.
"About 20 minutes after the first tremor, there was a second one. The office towers were swaying big time, everyone had been evacuated and the streets were much busier than they were before."
The Foreign Office are asking for UK nationals in Japan to contact the British Embassy in Tokyo.
A spokesman said: "Our thoughts are with the people of Japan at this time. We have a large embassy in Japan which is rapidly assessing the situation and reacting to what is an enormous earthquake.
"They are working to provide urgent consular assistance to any British nationals who might need it."
They have also set up a helpline for anyone worried about the safety of their friends and relatives on** 020 7008 0000.**
The British embassy in Tokyo can be contacted on +(81) 3 5211 1100. **UK nationals in Japan can also contact the Consulate-General in Osaka on **+(81) 6 6120 5600.
Additional reporting by Mike Farrell.
IN DETAIL