Unemployment in Scotland falls
Rate of unemployment in Scotland now stands at 8.1%, just above the UK average unemployment rate of 8%.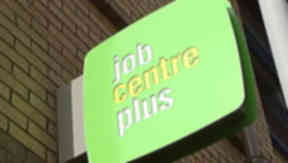 The number of people out of work in Scotland has fallen, according to new figures.
The drop of 16,000 between November last year and January takes the total of unemployed people to 218,000, the Scotland Office said.
The Scottish rate now stands at 8.1%, just above the UK average unemployment rate of 8%.
The latest change follows figures which showed a drop of 13,000 in the final three months of last year.
Labour market statistics also show employment in Scotland has increased by 8,000 over the three-month period, taking the total to more than 2.4 million.
In February, the number of people out of work and claiming jobseekers' allowance decreased by 2,100 to 137,600 - the first monthly fall since September last year.
Scottish Secretary Michael Moore said: "I welcome these figures which show falling unemployment and rising employment in Scotland.
"It is also encouraging to see the first fall in the number of people claiming jobseekers' allowance since September 2010.
"However, we cannot be complacent. There are still too many Scots out of work, and the Government is determined to help.
"At next week's budget, we will set out further details of the Government's plans for returning the country to sustainable growth with a balanced economy.
"In addition, I have invited the minister for employment to come to Scotland in the next few weeks to take part in a roundtable meeting to discuss how the Government's Work Programme will impact on Scotland with a range of key organisations."
However, First Minister Alex Salmond has warned that Scotland's action to support jobs must not be undermined the by next week's UK Budget.
He said: "Today's figures present further signs that Scotland's economy is strengthening and show the Scottish Government's robust actions to support jobs, skills and training are delivering real results.
"For four consecutive monthly labour market statistics releases Scotland has been the only UK nation with rising employment and falling unemployment; and Scotland has a higher employment rate and lower economic inactivity rate than the UK.
"In particular, we have seen strong growth in Scotland's construction sector - where there was a 14.3% increase (23,400) in workforce jobs to 187,000 over the year to September 2010. This compares to a decline of 1.3% (26,900) in the UK over the same period.
"That vindicates the decisive action we have taken to protect recovery, support jobs and stimulate investment by bringing forward work on vital infrastructure projects in 2008-09 and 2009-10 and by maximising our £3.3bn capital spending for 2010-11.
He added: "But while today's labour market figures are welcome, we must continue to bring unemployment down. With the UK Budget a week away, these statistics are a timely reminder that UK Government must not risk the recovery we are building in Scotland or undermine the positive path Scotland's economy is taking."