Burlesque dancer wearing flaming tassels sets off smoke alarm
Exotic dancer Go Go Amy was performing at the Dundee Tattoo Convention when the smoke from her tassels set off the alarm forcing an evacuation.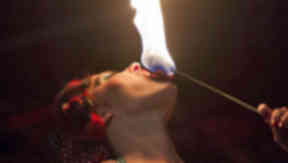 Hundreds of people had to evacuate a convention after a flame-eating burlesque dancer wearing flaming tassels set off the smoke alarm.
Exotic dancer Go Go Amy was performing at the Dundee Tattoo Convention, held at the city's Abertay University, on Saturday when she set off the fire alarm.
The dancer, part of the Pretty Things Peep Show act who were entertaining the large crowd, was using pyrotechnics and flaming tassels as well as fire breathing during her performance.
Convention organiser Ky Thomasson-Kay said the incident occurred when the dancer blew out the flames.
He said: "They weren't meant to use fire in the act but I think they just completely forgot. When the fire alarm went off everybody had to go outside.
"Everybody was wondering what happened and when the news trickled through to the crowd people were having a joke and a smile about it. It was one of those priceless moments that people will be talking about for years."
Firefighters were called out to the centre after the alarm was raised and crews were sent to investigate the cause of the incident.
Watch Manager Blair Fletcher said crews quickly found the call was a false alarm.
He said: "I understand the acts were using fire breathing and pyrotechnics and that is what looks to have started the alarm."
The two-day convention attracted more than 1000 visitors across the weekend - and featured live music and entertainment as well as tattoo artists from across the country.
Your report: If you have information on this or any other story, please let us know. You can send information, pictures to web@stv.tv or call us on 0131 200 8085.
Feedback: We want your feedback on our site. If you've got questions, spotted an inaccuracy or just want to share some ideas about our news service, please email us on web@stv.tv.