More than 20 tell police they were abused at Fort Augustus school
Specialist officers are carrying out an investigation after allegations monks molested and beat children.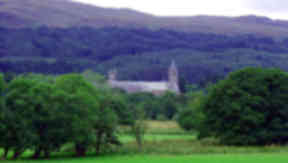 More than 20 potential victims of alleged abuse by monks at two Catholic boarding schools have been identified by police.
Former pupils at the Fort Augustus Abbey school in the Highlands and its East Lothian feeder school, Carlekemp, have claimed that they were molested and beaten by the monks who taught them decades ago. Both schools are now closed.
Police said they have been investigating since March following a report from a former pupil and more allegations came to light in a recent BBC documentary.
Charity Children 1st has set up a dedicated support line for anyone affected to contact them.
The organisation traditionally helps children, young people and families recover from abuse, neglect and violence, and campaigns for children's rights.
The helpline number is passed to victims who are interviewed by police as part of the ongoing investigation.
A joint statement from Police Scotland and the Crown Office said: "The investigation has so far identified more than 20 possible victims and extends to liaison with a number of law enforcement agencies across and outwith the UK.
"Specialist officers from Police Scotland will carry out a thorough investigation and thereafter will report their findings to the procurator fiscal for the north of Scotland.
"If anyone has any information about this case, they are encouraged to come forward and report this to police using 101 or emailing fortaugustusabbeyenq@scotland.pnn.police.uk.
"Any such reports will be directed to the enquiry team and investigated and dealt with very sensitively by trained officers.
"Wherever criminal offences are committed victims can have confidence that they will be vigorously investigated and those who commit offences can expect to be brought to justice."
Earlier this month, one of Scotland's most senior Catholics apologised to former pupils amid the claims and one former headmaster of Fort Augustus resigned from a role at Oxford University after accusations that he failed to act on reports of abuse during his time in charge in the 1970s.
The Children 1st support line number is 0800 345 7457 and is open Monday to Friday 9am to 10pm and weekends 12 noon to 8pm. Calls from landlines and most mobiles are free.