Legal highs implicated in deaths of 47 people last year in Scotland
In five of the cases, the substances were the only drug present in victims' systems.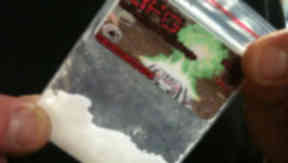 Legal highs were implicated in 47 deaths in Scotland last year, according to figures published on Tuesday.
In five of the cases, the substances were the only drug present in victims' systems. It is the first time that legal highs have been factored into official records.
The Government figures also revealed 581 people died as a result of drug misuse in Scotland in 2012, three fewer than the year before. The number is the second-highest ever recorded and represents a 52% jump since 2002.
The statistics pointed to an "ageing cohort" of drug users, with 63% of drug deaths aged 35 and over. However, the number of under-25s who died after taking drugs dropped by 20%, from 58 in 2011 to 46 in 2012.
Heroin replacement methadone was implicated in 237 deaths, 38 fewer than in 2011.
Community Safety Minister Roseanna Cunningham said: "First and foremost, we must recognise that these figures represent 581 loved ones lost by friends and families across Scotland and each of these deaths is a tragedy.
"The Scottish Government is dealing with a legacy of drug misuse which stretches back decades and, as in previous years, the statistics published today show that many of these deaths are older drug users who have become increasingly unwell throughout the years.
"It is encouraging that drug deaths statistics show fewer young people are dying. This is in keeping with wider statistics on drug use in Scotland that show a decrease amongst the general population, and that use by young people is at its lowest for a decade."
Ms Cunningham said the Government was committed to helping people recover from addiction, with £194m invested in front line services and support since 2007. But she warned that legal highs, also known as new psychoactive substances, presented a new threat.
The minister said: "While the classification of drugs is a reserved matter, we very much recognise the challenges posed by new psychoactive substances, also known as legal highs, and that is why we hosted a national event in April to discuss this very issue."
Dr Roy Robertson of the National Forum on Drug-related Deaths said: "It is always disappointing to see the depressing loss of life from drug related causes.
"These statistics will help us to review what more can be done by a range of partners and agencies across the country to reduce the risk of drug deaths and help drive the strategy forward."
Meanwhile, separate official statistics showed that the number of alcohol-related deaths fell by 167, or 13%, to 1080 in 2012, the lowest annual total since 1997.
There were 420 alcohol-related deaths of people aged 45-59, 394 deaths of 60-74 year olds and 145 deaths of people who were 30-44. In the under-30 age group, there were 14 such deaths in 2012.
Regional breakdowns of the drugs statistics show the Greater Glasgow and Clyde NHS board area saw the most drug-related deaths last year, at 193.
The Lothians had 90 deaths while Lanarkshire accounted for 61 and Tayside had 55 deaths.